Address: Shop 8, 49 Rawhiti Rd, Manly
Phone: (09) 424 7201
Website: southernkitchen.co.nz
Cuisine: Southern style
Rating: 5.5/10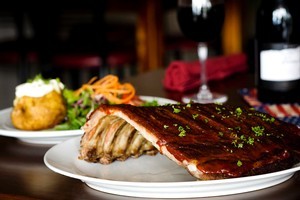 Extend the boundaries. Whatever that might mean, it's on my list of goals for 2011. With this in mind a friend and I headed north to Whangaparaoa Peninsula. First stop, a swim at Little Manly to work up an appetite because we'd heard we'd need one for the establishment we were heading to.
Husband and wife team Joey and Julie Moon moved to New Zealand from Georgia, US, in 2001. Since then, they've missed the distinctive cuisine of the southern states so much that nine months ago they opened Jambalaya Southern Kitchen in Manly.
The location and shop-like appearance of the restaurant presents some challenges in creating ambience. The owners have gone part way with jazz and blues memorabilia on the walls and American flag serviettes on the tables, but it needs more work to disguise the bland space. There are also too many tables crammed in but, for all I know, on a busy night they may all be required.
Owner Joey redefines casual. With his adorable southern drawl he took us through the menu, explaining that his wife Julie has been creating and collecting recipes for traditional southern dishes her whole life. All good. Then, as he was taking our order, he did that thing with his jandals - exited them so that he stood barefoot before us! Even though we'd come from the beach ourselves, this was a bridge too far. We hoped the food wasn't treated with the same carelessness. It wasn't.
Our first starter of six plump sweet shrimp (prawns in our world) encased in a light beer batter avoided being greasy by arriving piping hot with a tangy seafood sauce.
The New Orleans crab cakes were enormous. Thankfully they were also light, moist and fluffy and not overly seasoned, so the taste of the crabmeat - which has a subtle flavour - was left to shine.
The accompanying remoulade sauce was fabulous - reddish in true Louisiana style, tangy and full of herbs as the menu promised.
But the winning starter was yet to come - buffalo wings. Since a stint living in the US in my early 20s I have adored these fried chicken wings, doused in a fiery hot sauce and then dipped in a cooling, ranch-style blue cheese sauce.
It was at this stage that we realised Joey wasn't doing himself or his business any favours. When I asked if they made their own hot sauce for the wings he drawled "Nah, we just use this bottled sauce" grabbing a bottle of Frank's Red Hot from a neighbouring table. Frank's is a famous cayenne pepper sauce of some repute, but Joey made no attempt to talk it up.
Nor did he tell us that Jambalaya offers an impressive selection of hot sauces. I was left to discover the sauce tray by the bar only when I went to pay the bill at the end of the evening. These are lost opportunities to promote the uniqueness of one's business and inexcusable for an owner.
If I were hosting an "improve your restaurant" TV show, I'd immediately target Joey and tell him to pull his socks up (or wear some!) so that the great food his wife is cooking doesn't get downgraded. Maybe he'd had a hard day or maybe his jandals were giving him blisters but we expected him to be more enthusiastic about what he and his wife have created.
Trying not to be deterred by Joey's lack of energy, we enthusiastically tackled our mains of pork ribs and southern-style fried chicken. The pork ribs were tender, smoky and full of flavour - they left me smacking my lips, covered in sauce and very satisfied indeed. My dining companion was less pleased with her "Mama Bonnie's Fried Chicken".
The chicken breast was overcooked and there was nothing special about the crumb coating, though the whipped potato and gravy were pure southern comfort food.
Delicious homemade desserts (Key lime and pecan pies) were both outstanding but let down by low-grade accessories - cheap icecream (watery) and fake cream from a can.
Jambalaya needs work, not so much in the food department, which on the whole is good southern fare, but in livening up the ambience and the service.
I've said it before - eating out is a whole experience and the food will only get you so far.
From the menu: Biloxi fried shrimp (doz) $16, New Orleans crab cakes $16, Buffalo chicken wings (doz) $12, Mama Bonnie's Fried Chicken $23, "Texas Crutch" smoked ribs (small) $20, Key lime pie $8.50, Pecan pie $8.50.
Drinks: Fully licensed.