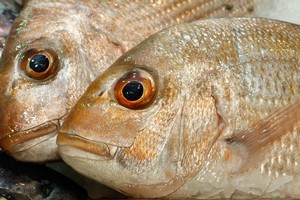 There are too many snapper off the west coast, according to commercial fishermen who want trevally but have trouble avoiding snapper. Fish are being caught surfcasting, on long-lines set from the beach and out in boats. Like fishing in many areas, it has been a solid season off the coast, although reports this week indicate marlin fishing has slowed off the west coast.
Sharks, however, are still around in plague proportions and can be a problem when bottom fishing. One party fishing in 15 metres of water just outside the Manukau bar boated a good bag of snapper while another boat fishing in 20 metres could not get away from spiny dogfish.
Inside the Manukau Harbour, shellfish berley in preference to fish-based berley helps avoid sharks and rays, which are always common at this time of year. Mullet bait in the Papakura Channel has been producing some good snapper.
As temperatures finally start to cool bigger kingfish should turn up, replacing the "rats" which have been thick everywhere this summer.
Large kahawai are also a feature of the inshore fishing, and have gone from one extreme to the other. Where a few years ago kahawai were impossible to find, now it is hard getting a bait down through them and workups are common off Rangitoto Island and along the east coast bays.
Fishing deep water has improved, and one snapper of just under 10 kilos came from a 50-metre reef this week. Squid are common and squid bait or soft plastics in brown colours are working very well.
Fishing around the Mercury group of islands and around Great Barrier Island has been patchy, with a lot of dirty water and a large proportion of small snapper around.
Surfcasting along the Bay of Plenty beaches is also firing, with some anglers taking home limit bags after an evening's fishing. While skipjack tuna are running well only 2km off the Whakatane bar, marlin and other tuna have been scarce this summer although kingfish are fishing well at White Island. The best action has been at the western end of the bay, out of Tairua, Whangamata and Whitianga. In the Bay of Islands marlin are close, in 100 metres off Bird Rock and off North Cape; and bronze whaler sharks are making fishing kingfish a problem. Snapper are better on the shallow reefs, with only small fish in the bay.
A recent survey of 1500 boats by Maritime New Zealand found that while 98 per cent of people had lifejackets on their boats, less than half were wearing them, although 90 per cent of children wore their lifejackets. It is the adults who don't put them on, according to the survey.
In a unique opportunity to "hook a chief", people can bid to take two Chiefs rugby players fishing in a special fishing competition to be held on April 8 and 9. Fishing can be done anywhere from Auckland in the north to Taupo in the south, and involves both trout and saltwater fish. For information on where to buy tickets ($50 for adults and $25 for under-16-year-olds) go to www.chiefs.co.nz and click on "fishing competition".
The Rheem Supercity Fishing Competition has been delayed for a year. Pakuranga Rotary Club spokesman Kelvin Ricketts said the club was not satisfied that ticket sales would be sufficient over the next few weeks to enable the club to host the tournament to the standard it desired.
"The club wants to ensure the Rheem Supercity Fishing Competition is an excellent tournament for contestants but we feel we did not give ourselves time to ensure this. We started a little late and external events also impacted," he said.
"The Christchurch earthquake has also had an effect because many of our club members want to raise funds for the people there. The charity for the tournament had already been nominated and we did not feel we could change it at this late stage. We feel it is best that we regroup, then start planning early for the 2012 competition."
He said all contestants would receive a full refund of their entry fees.
More fishing action can be found on Rheem Outdoors with Geoff, 5pm TV3, and on the new internet television channel, FishnHunt.Tv.