Address: cnr Federal and Wolfe Streets, Auckland City
Phone: (09) 359 9113
Kitchen Open: Mon-Fri 7am-3pm + Thu & Fri 3pm onwards for drinks and nibbles
Rating: 8/10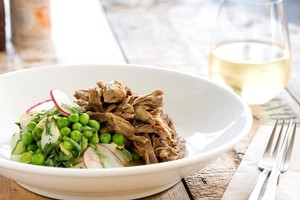 Rules are made to be broken, don't you think? When, 18 months ago, I took up the mantle of reviewing our city's many and varied eating out options I made a promise to concentrate on the eateries whose primary raison d'etre was to offer an evening dining service. I have always been captivated by the theatre of "going out for dinner" so it was here that I wanted to direct my efforts and expertise.
However, for the past two weeks I have made repeated visits to a cafe in the central city that has so impressed me that, when I'm eating there, I completely lose sight of the fact that I've "just ducked in for lunch". So, I'm relaxing my rule.
The first time I paid a visit to Federal & Wolfe I was struck by the interesting mix of casualness and careful consideration and, for my money, it's pitched in all the right places - casual defines the design and feel of the space, while the food and service is taken very seriously indeed. The new owners have deftly transformed the space from the sleek and stark design that was Rice, to one that feels easy and personal, kind of like a funky loft apartment. An exposed wall is crammed full of pot plants, giant wall blackboards are chalked with specials and quirky drawings, and the eclectic assortment of chairs and tables all add up to a vibrant and energetic environment.
Intriguingly for a daytime cafe menu, albeit in a small, asterisked notation, tribute is paid to the chef, Holly Shaw. My lunch pal and I commented on what a marvellous idea this is. It ups the ante, gives credit where it's due and serves as a reminder that the bill of fare, the design and execution of it, really is what chefs stake their reputation on. It's what they pour their passion and creativity into and they deserve recognition for it.
Chef Holly Shaw has done her time in London, cooking with such notables as Peter Gordon and at the prestigious Scott's, but this is her first head chef position. Reading the menu, we were impressed with the emphasis on organic produce, with all of the meat suppliers to Federal & Wolfe listed, complete with their organic certification numbers. I don't care as much about the feel-good factor (go on, shoot me for saying so) as much as I do about the flavour so I was full of anticipation for my McKenzie Country organic lamb.
Our meals arrived and we were gleeful. These were no standard lunchtime fare, but more like what you'd expect at a smart evening bistro. The ever-so-slowly cooked lamb (seven hours' worth!) had been pulled lazily away from the bone, and was presented in large, sweet, tender chunks alongside boiled new potatoes and bright green peas and broad beans. Fresh mint, wilted down, added to the cliched marriage of flavours while thinly sliced radish and lemons gave the dish a new lease of life. It was a beautifully constructed dish.
So was the other main we ordered. From the breakfast menu, the smoked fish kedgeree had leapt out at my lunch friend. She's an expert on this somewhat strange combination of smoked fish flaked through rice, with curry spices and boiled eggs. It has its origins as a breakfast item made from leftovers but I've never considered it thus and regularly cook up a batch for dinner. Federal & Wolfe's version is splendid. The smoked fish was delectably salty and moist and the choice to use good quality basmati rice added fragrance, as did the fresh lemon and parsley. Marvellous.
For dessert we shared a griddled black forest cookie. It sounded interesting, served in its own cast iron pan and doused in an espresso syrup, but the reality was disappointingly dry and crumbly and didn't excite us as much as we'd hoped.
Over the ensuing fortnight following this first visit, I couldn't help returning twice more to the somewhat noisy and buzzy Federal & Wolfe and I sampled the following: another serve of the lamb, the smoked fish and prawn cakes, a brown rice salad, a caramelised garlic and onion tart and the olive risotto plus some sweet treats from the cabinet. On every occasion the food was remarkable and the wait staff impressive with their level of professionalism and attentiveness. I'd long forgotten how pleasurable a decent, sit-down lunch in the city could be.
From the menu: Seven-hour lamb $21, kedgeree $18, prawn cakes $19, garlic and onion tart $16, griddled black forest cookie $9.
Drinks: Wine & beer & fabulous fresh juices