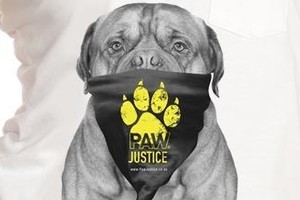 These cute T-shirts are a collaboration between fashion label Huffer and local charity Paw Justice, with proceeds going to the charity to help them deal with the growing problem of animal abuse and neglect. There are three prints available, including dog Boss, cat Chopper (pictured) and Jester, for small dog lovers. Tees are $50, singlets are $40. Buy them now to help in the fight against animal abuse from pawjustice.com.
You can also help the charity's Christchurch earthquake appeal, by texting HELP to 4662 to donate $3 to the pet food bank.
Black out
Here's an opportunity to pull out your favourite Little Black Dress: the Fashion Museum is holding two special cocktail parties in Auckland and Wellington, to introduce this year's Black in Fashion exhibition, and raise funds for the development of the museum's online component. Each event will have fashion industry guests who will give an insight into the influence of the colour black on our local industry, as well as black cocktails and food designed for the evening.
Auckland's party will be held at Hotel DeBrett on March 15, where Zambesi's Liz Findlay will be joined by designers Beth Ellery, Teresa Hodges of the label Blak and Black magazine founders Grant Fell and Rachael Churchward. Each will bring along a key black garment, and share the story behind it and the reason behind their passion for the colour black. The lovely Charlotte Ryan of bFM's Morning Glory show will be the MC for the evening. At the Wellington event, on March 21 at the Museum Hotel, designers Alexandra Owen, Rachel Easting and Anjali Stewart of Twenty-seven Names and James Dobson of Jimmy D will speak.
Tickets to both events are limited to only 60 for each venue, so get yours now and show your support for the local fashion industry - and hear some
fascinating stories while you're there. Tickets are $100 each, and available by emailing tickets@fashionmuseum.co.nz.
Better late than never
Adrian Hailwood's summer sale starts today. Yes, just when you were deciding which wool coat to buy there are still some great bargains to be had. From limited edition paper prints, to his draped evening dresses and satin tuxedo jackets (pictured right), there's nothing over $200. Hailwood, 516 K Rd. And if you're planning on a mid-winter break, head to Trelise Cooper's summer sale on this week for one of her chic kaftans. There's nothing over $150. Viaduct and Ponsonby stores only.
Meanwhile, Stolen Girlfriends Club is holding a sample sale this weekend, with one-offs, catwalk samples, archival pieces and ex-stock. Get shopping at 252 Richmond Rd, Grey Lynn, Auckland from Friday March 11 until Sunday March 13, 9am-6pm.
A new man
Louis Vuitton has a new menswear designer. Kim Jones, previously the creative director for Alfred Dunhill, has been appointed as the mens ready-to-wear studio and style director, working under the direction of Marc Jacobs.
On the strip
Pumpkin Patch is opening on Ponsonby Rd soon, while pricey childrenswear store Child is shutting up shop. A sign of the times perhaps, but the strip has not been kind to chains: Starbucks did not last, in the face of established individual outlets. Pumpkin Patch is also collecting for the earthquake in all its stores - as are many other businesses - but it has the ambitious goal of raising $250,000. It started the ball rolling with a $25,000 donation and intends matching any donations made by shoppers, up to $125,000.
Win with Viva
Windows on Europe 2011 is a sophisticated little film festival which starts on Thursday March 17 and runs for a week at the Rialto Cinema in Newmarket. There are just 14 films included, all of which explore the diverse cultures of Europe - from a comic road movie from Hungary to a travel documentary based around the summer holidays in the mountains of Portugal. Viva is delighted to have five double passes to give away. To go in the draw, simply email your name, address and contact phone number to vipviva@nzherald.co.nz with "Windows on Europe" in the subject line. Entries close March 14. Winners announced March 16.