On the eve of opening her own store, Viva spends the morning with designer Cybele Wiren.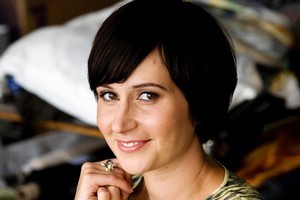 Auckland's K Rd has a constant hum of urban chaos: police cars race past with sirens blaring, delivery vans offload their goods and hold up traffic, colourful characters strike up conversations with pedestrians asking for (sometimes demanding) cigarettes. But above it all in designer Cybele Wiren's workroom, it's a serene contrast of quiet calm.
The space, through a humble doorway that's very easy to miss and up a steep, nondescript staircase, is exactly how you would expect a fashion designer's workroom to be - organised chaos, with sewing machines, dressmaker's mannequins set down randomly, spools of cotton carefully organised in boxes, racks of new season garments, fabric swatches pinned to the wall, rolls of fabric and bFM's Morning Glory show playing in the background. Wiren's team of three work quietly, and everyone is wearing black. "I originally worked at home, but the house was so full of clothes that you couldn't watch the TV - so coming here was a good move," explains Wiren. Located above K Rd, the workroom overlooks the busy street below with large windows, high ceilings and a small mezzanine kitchen, where a sign above the bin reminds everyone to recycle their plastic. It's here that Wiren sits down with her PR and long-time stylist Chris Lorimer for a quick morning meeting, to discuss various brand-related things: selecting the new winter campaign images, which were shot around North Head by photographer Olivia Hemus (she's been working with the Cybele team for several seasons), talking about the store opening party ("how to serve whisky in a cocktail way that isn't going to knock everyone's socks off"), and discussing the upcoming summer 2012 collection which is in its beginning stages.
Wiren gives me a sneak peek at her first print for summer, a beautiful, huge crystalline print, sort of an abstract eagle. Birds and wings are a frequent motif in Cybele collections, from the early nocturnal butterfly print in 2006 to the Phoenix in her Eclipse range (autumn/winter 2008) to the fluttering bird print of the Halcyon range (Autumn/Winter 2009) to the moth wings in 2010's Virtue collection. For this winter it's a hawk, representing the idea of a "totem animal spirit".
"It's lots of things: symmetry, texture, movement," she explains of her penchant for birds and wings. "Sometimes I try to fight it, but usually I just embrace it."
Wiren's mornings usually go something like this: she'll spend the morning with her adorable daughter Phoebe, who is just over 2 years old, then takes her to be looked after by one of her family members for the rest of the day. When she was younger Phoebe used to come into the workroom with Wiren, with her own little bed and area. "She loves coming in here, she likes lots of activity - going for walks along K Rd, she loves shopping, and she loves all the girls in here too."
Family is important to Wiren, something she gives credit for helping her with the work-life balance. She and her partner live on the same Avondale street as Wiren's father and his partner and her brothers help out on Fashion Week shows and have worked on the makeover of her new store (she jokingly calls them her "magic elves" who come into the store overnight and get things done). She usually gets into work at around 10am, where she'll oversee her team, "who are amazing" and take care of the day-to-day. Right now that involves a lot of phone calls and emails, organising signage, replacing glass, sorting out lighting and floors, "trying to remember everything". Wiren is quite involved with the production process as well, working with her team and troubleshooting various issues - like today's news that a whole lot of fabric has come up short, meaning new fabric needs to be found to replace it.
Much has been made of Wiren's "unconventional" or "unusual" upbringing - she was raised in a small rural town in the Coromandel, without electricity - her parents were creative. All of that has no doubt contributed to the serene persona she gives off now (her calm professionalism has become almost legendary in the industry where hysterical, creative excitement is common), and it probably helps give context to all those organic, nature influences that have appeared throughout her collections since the brand's first New Zealand Fashion Week showing in 2003. It was also there, in the rural town of Colville, that Wiren learned how to sew. But despite this early interest in the craft of fashion, she didn't end up at fashion school, she studied painting instead - although she admits that she didn't do a lot of that. "I did photography, and sewed a lot of clothes," she laughs. Her approach to fashion is therefore slightly different, although she says the creative processes are the same. She also has an obvious passion for print, which are often key to her collections. "I do really appreciate the 2D print side of things, but it's really important to transform those into a 3D garment," she explains. "I like the mathematics, and science behind fashion; the construction. The pattern-making has always been a really key thing for me - beautiful geometry and precision." Her passion for the "nerdy", technical side of design has paid off: walk down an Auckland street and you're likely to see at least one person wearing a Cybele piece.
Wiren has successfully made the transition from emerging designer to the next level of brand in her own right, doing it in her own organic, unassuming way of course. It's fitting that after almost 10 years of the label (she'll celebrate that milestone next year), Wiren is finally opening her own boutique.
Having a flagship store is the dream of every single fashion designer: it means they have complete control over how their clothes are represented on the rack, they can define their brand, and they can showcase every single piece from a collection that they've spent months on (stores often tend to go for the more conservative Cybele pieces, whereas the press focus on bolder pieces like printed pants and maxi gowns). Wiren is no different, having mentioned several times her desire to one day open her own store. Today she repeats that wish, "but I had to find the right space at the right time". That space is a long, narrow store on Auckland's Ponsonby Rd, which she fell for after opening a couple of successful pop-up sale stores there last year. But the Cybele boutique will be different: for one it's permanent, and has had a facelift for the opening next week (new parquet floors, new lights, new paint), and will offer exclusive pieces available only in-store, something Wiren is especially excited about. She's excited too, no doubt, because the opening marks a special coming of age for Wiren: Cybele, the brand, has grown up.
"It has been quite a journey up to this point, made up of a lot of little milestones," she explains - this new boutique no doubt being just one of more to come.
* The Cybele boutique opens at 62 Ponsonby Rd on Tuesday, March 1.