The dude known as a Miss chats to Jacqueline Smith about dodging weather bombs and modelling with sheep while filming America's Next Top Model in NZ.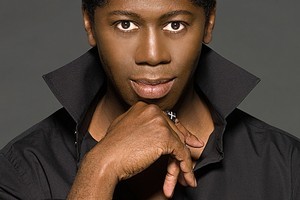 So I suppose it feels like a long time since you were in New Zealand - December 2009?
Yeah. I was the first person to arrive in New Zealand. I was given a list of things to do by David Grohl of the Foo Fighters because I was with him in the airport when I was delayed for four and a half hours. So he told me all about the black sand beaches, and the Hobbit houses. But then I was in the rain for my welcome with the Maori dancers that you have, I think that's what you call them.
That's about right.
There was so much rain I was like, oh my goodness, we are going to slide off this cliff we were standing on. But those guys were incredible because they went through the entire welcome process. And for the girls, the challenge was to stand there in the cold, in the rain, in order to greet these guys and do a photo shoot. And it was a challenge for me too because I was freezing. I said to the girls, "You know this is a real challenge here, but you know, you're stuck with the weather".
That sounds like an overwhelming welcome.
Well, yes, and then they came straight off the plane and into castings. It was interesting to do that in a foreign country, let alone New Zealand - that was such a trip. The jetlag! But they had to get on with it because that's what happens in the business.
What was their first shoot?
It was with Nigel and they did it in the same black dress. Outside. With sheep. It was quite interesting because there they are with the sheep not knowing what to do with it. A few girls were a bit off-balance and not sure.
Are sheep photogenic?
Well yes, and the girls had to work hard because an animal can absolutely out-shine you in a photo. But it's hard to know what to do with a sheep, they are not sexy, and it's wool which is difficult. One tried to sit on it, and we had to say, you can't sit on the damn sheep.
So other than having interesting landscapes and animals, how is New Zealand for modelling?
Well, there are a lot of big girls actually. The girls weren't as thin as most of the girls in the US, there were some really great shapes. But you have some beauties.
You think any tall, thin girl can be a model but they can't. You have to have character and personality. We did a fashion show at the museum, with local girls. And a lot of them moved quite well actually.
I was also shooting over at Rakino Island at this most amazing house. Absolutely amazing. I couldn't believe that New Zealand had this island with this house just sitting on the top of it. I had never seen anything like it in my life. I'm still a bit gob-smacked.
And this is the ANTM season where you took a break from judging to coach instead, is that right?
Yes Andre [Leon Talley] and I just switched positions. It was great because when we went to Queenstown I did a fashion show on the plane. It was a runway lesson down the aisle. You had to be aware that the plane was on an angle but keep your model face on.
Did you find it difficult to be a judge?
I did. Sometimes there would be a girl who I would really want to see do well. I would beg everyone to give her one more chance, one more chance, and then she would do something to disappointment me and I would think, "Damn girl, you could have made it". But this is a competition and there's no time to discover girls, they have to give the information away early.
Are you still coaching already-established models?
Well, the thing is often I just don't have time because I'm filming a lot of the time and then when it comes to Fashion Week I've just got no time. But I say to those girls on Top Model, this is their opportunity to stand before me, Tyra and everyone else and get information. They need to take everything in like a sponge because there's a whole world outside Top Model that they can be a part of.
Why do you think it's so popular even all the way down here, which is very far from New York, Paris and Milan?
It's reality. It puts the whole fashion industry right before your eyes. The pros and cons, the cat fights, being lost and frazzled and late to a casting. I think for the audiences around the world, a lot of girls fantasise about being a model and this gives them an idea of what it's actually like.
-TimeOut