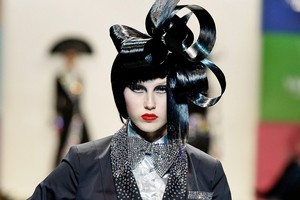 World is celebrating its past while looking to the future. It is going back to its roots as a "purveyor of extraordinary items and a factory of ideas and experiments" with a World Deluxe Heritage Sale. The pop-up "garage sale" will see the beautiful WorldDeluxe store on Auckland's High St made over for the duration of the sale and filled with various treasures new and old; including the release of one-off creations, World "couture", European samples and "other delights which Auckland hasn't had the chance to experience before". And for local fashion fans and historians - and those who may have missed out the first time around - the fashion house is releasing various iconic heritage items from their 21-year-old archives, including Swarovski-adorned jackets, gowns from their New Zealand Fashion Week show at Ara Lodge in 2004, and pieces from their Australian Fashion Week show in 2005. Because as designer Francis Hooper says, "rather than being left to hang on hangers, clothes need people to bring them alive".
The World Deluxe Heritage Sale opens on Monday February 7 and runs until Sunday February 13 at the World Deluxe store, 57 High St, City, ph (09) 373 3034.
Dark and lovely
The Darkroom is returning on Friday, with extras. The three-day pop-up store from the faces behind Children of Vision, Jimmy D and General Cucumber will feature discounted Zambesi, Deadly Ponies, Deborah Sweeney, Ann-Sofie Back and more. There will also be a selection of vintage pieces chosen by Charlotte Rust of Fast & Loose, and a mini cafe dubbed The Teahaus. They're also in a new warehouse space at 2 Cross St, Newton. Friday February 4, 10am-7pm; Saturday February 5, 10am-5pm; and Sunday February 6, 11am-4pm.
Moroccan magic
Trelise Cooper travelled through Morocco late last year where, she says, she was inspired by the brilliant architecture, food, people and, of course, the beautiful accessories. In fact, she couldn't help herself and brought back a select range range of sequinned baskets and vibrant coloured slippers to sell. Find them in store now.
Who's on sale?
Good news for Cybele fans: the designer has returned to her pop-up store space at 62 Ponsonby Rd, and is on sale until February 6. Has Cybele found a new retail home?
An odd collaboration?
In a seemingly odd, but brilliant partnership, Italian luxury shoe brand Tod's will fund the €25 million ($44 million) restoration of Rome's Colosseum.
Fashion on display
Diana Eng is a fashion designer who featured on Project Runway in 2005, where she showcased her penchant for combining fashion and science. Since then she's worked in research development for Victoria's Secret, released a book and had her work feature on the cover of iD. She's been in the country recently hosting workshops at AUT, and some of her work is on display at St Paul St Gallery One until February 5 - including an inflatable dress, a scarf incorporating a snowflake that grows when the temperature drops, and garments that light up in reaction to movement and sound. Check it out at 40 St Paul St, City.