Nothing says summer like icecream. Try making your own with these seasonal recipes.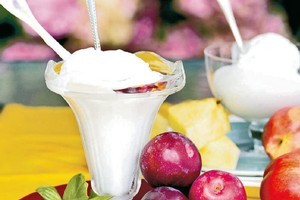 Hot, sticky and humid days call for icy cold icecream. It is the quintessential summer treat, which, after perfecting the basic recipe, can be adapted to incorporate the beautiful seasonal fruits abundant at the moment. Nectarines, plums, passionfruit and pineapple are all divine when paired with creamy vanilla-scented icecream.
You don't need an icecream maker but it makes it an uncomplicated and pleasing experience, especially when you don't have to keep checking the freezer and stirring the mixture to make sure the consistency is correct.
One alternative is the classic semifreddo recipe - beating eggs until pale then adding a sugar syrup before folding through whipped cream and your chosen flavours. This results in a rich and beautifully soft icecream that needs to be served immediately before it begins to melt.
I loved icecream sandwiches as a little one, especially licking the icecream around the edges of the wafers, so I had a nostalgic moment in the supermarket last week when I saw the familiar pink packs. Nectarine icecream and fresh passionfruit pulp sandwiched together is rather divine, as is a semifreddo, made with ripe, sweet pineapple, coconut cream and Thai basil.
You can substitute Italian basil if the Thai variety is a little tricky to find, because the flavour does work with sweet as well as savoury - as anyone who has eaten strawberries with basil and a little brown sugar will know. Cinnamon basil would also be good in this recipe if you have it available.
The flavour of orange blossom in icecream is heavenly and when this is paired with plums, grilled until syrupy and then piled into some retro sundae glasses, well, a more perfect summer evening dessert would be hard to find.
Chef's tip
Make sure the fruit you are using is perfectly ripe to gain the most flavour. Orange blossom water is reliably available at Middle Eastern food stores, but also worth looking out for at supermarkets and gourmet food stores.