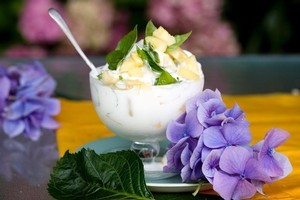 Makes 1 litre
6 egg yolks
1 cup caster sugar
1/2 cup pineapple juice
1 cup coconut cream
1 cup cream
2 Tbs dessicated coconut
1/2 cup fresh pineapple, finely chopped, plus extra to serve
1 Tbs Thai basil, finely chopped, plus extra to garnish
1. Put the yolks into a bowl and, using electric beaters, beat until very pale.
2. Put the sugar and pineapple juice into a saucepan and heat while stirring, to dissolve the sugar. Pour the hot syrup on to the egg mixture and beat until cool.
3. Whip the coconut cream and the cream together then fold through with the dessicated coconut, chopped fresh pineapple and the basil.
4. Freeze in a lined loaf tin for at least 4 hours before serving with extra pineapple and basil.