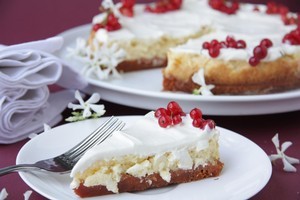 Makes one springform tin
1 pkt malt biscuits
250g butter, melted
275g cream cheese, at room temperature
3/4 cup caster sugar
1 tbsp flour
1 egg
2 egg yolks, whites kept
1 cup sour cream
1/4 cup lemon juice
1/4 cup extra caster sugar
1 In a food processor, blitz the biscuits to a rough crumb and add the butter to combine.
2 Press the biscuit mixture into a well-greased springform tin and place into the freezer to harden.
3 Meanwhile, beat the cream cheese and sugar until fluffy, then add the flour, egg, egg yolks and sour cream. Lastly add the lemon juice. Preheat the oven to 150C.
4 In another mixing bowl, beat the whites to soft peaks, then gradually rain in the second quantity of caster sugar and beat until stiff and shiny.
5 Fold the egg whites into the cheese mixture, pour into the tin and bake for 1 to 1 1/2 hours. Cool and place in the refrigerator, preferably overnight.
6 To serve top with whipped cream and berries.