Decadent, creamy and delicious, cheesecake has been tempting diners for centuries.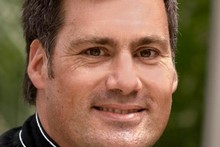 You find me today in a kitchen full of little cooks, all keen to lick the remains of a chocolate cheesecake from a mixing bowl. It's the school holidays and the weather isn't flash, so a morning with me in the kitchen seems to be the mums' way of having their children babysat.
But before we start making our cheesecake, the young chefs get a history lesson. The cheesecake is thought to have originated in ancient Greece, to be served to athletes during the first Olympic Games in 776BC. But it was the Romans who took cheesecake to Europe and, much later, European immigrants who took it to America. And it was there that the crucial ingredient of modern cheesecakes was developed - cream cheese.
Trying to reproduce a French cheese called neufchatel, American William Lawrence accidentally created what would become the world-famous Philadelphia Cream Cheese.
These days there are hundreds of different cheesecake recipes, all with varying ingredients that make different types of cheesecake. The most essential ingredient in any cheesecake, though, is fresh, soft cheese - most commonly cream cheese, neufchatel, quark or ricotta.
There's the "placenta" cheesecake; a cold-setting cheesecake with a biscuit or pastry base.
And then there's the baked cheesecake made with cream cheese, cream, eggs, and sugar, which is considered Jewish, or - if the cream cheese is switched for ricotta - Italian. Both have their roots in immigrant New York neighbourhoods.
When you're making your cheesecake, stop it from cracking by not over-baking it or over-beating the mixture.
Baked cheesecake freezes well if you put it in the freezer on the baking tin base, uncovered. Once it's frozen remove the tin base, wrap the cake in tin foil and place into a sealable freezer bag. Re-freeze and it will keep for several months. Thaw the uncovered cheesecake in the fridge overnight.
Baking cheesecake in a springform tin works best, as it allows you to remove the cake easily. Bake in a bain-marie (water bath) to regulate the heat so the cake doesn't darken, curdle or crack. Wrapping tin foil around the bottom and halfway up the sides of the springform tin will prevent water from seeping in.
As cheesecake is very soft, it can be difficult to judge if it's cooked. Use a thermometer to read the internal temperature - you want 70-72C - or insert a small knife into the centre and if it comes out clean, the cake is ready.
Chilled cheesecakes are best set with leaf gelatine, as I find powdered gelatine has a definite flavour. Use a coffee tamper to compress the biscuit-crumb base.
In Mexico City in 2009, Philadelphia Kraft Foods was recognised by Guinness World Records for creating the largest cheesecake ever made, weighing in at 2133.5kg, with a diameter of 2.5m and standing 56cm tall.
The recipe called for 800kg of Philadelphia Cream Cheese, 800kg of yoghurt, 350kg of cookies, 250kg of sugar, 150kg of butter and 100kg of strawberries. Now that's a story to tell.
By Paul Jobin