Isaac Hindin Miller reports from Italy's style capital on the latest in winter menswear fashions.
Ermenegildo Zegna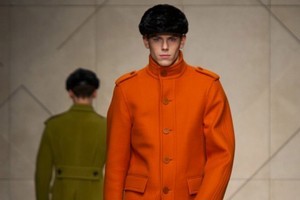 Fashion is typically the last industry on earth to embrace new technologies, but at Ermenegildo Zegna, we saw the models virtually before they appeared in the flesh.
Each boy was projected cinematic green-screen style onto the back wall to a live streaming background of The Great Wall of China.
Created by one of the clever gentlemen behind Avatar, it was very fancy; as were the clothes. Dedicated to soon-to-be-the-most-powerful-economy-in-the-world China, the show celebrated those men who live "between two worlds, carrying in themselves a blend of West and East just as perfectly balanced as Yin and Yang".
The strains of East meets West could be found in a series of belted military coats echoing the Mao uniforms of the late 40s and 50s, teamed with classic hunting tweeds and plaids in earthy browns; and again in a multiple offering of tuxedos made from marbled red, orange and black Oriental silks and velvets. But it was most evident in the casting - about half the models were Asian, and that's a bold statement in the typically white-washed arena of fashion.
One of the toughest elements to dressing for the cold is restricted movement, but the entire collection bounced with a lightness that belied its weight. It made layering look easy, and that's about as high a compliment to a winter wardrobe as can be given.
Costume National
Rebellious tailoring was the inspiration behind Ennio Capasa's Costume National show, in a collection that combined technically advanced fabrics with a dash of fragility.
So what makes a menswear rebel? Eliminating shirts from one's wardrobe, according to Capasa. His substitute for the male staple came in the form of ultralight knitwear - striped and colour-blocked turtlenecks, v-necks and crewnecks in super-fine mohair and shetland wool. These were worn beneath techno suits with hidden zip closures (removing the need for buttons), and super-reinforced leather jackets that wouldn't have looked out of place in a Michael Jackson video. Or on Blade Runner.
Coats stole the show. Made from heavy wools, each featured a contrast-colour-edging that gave them a perfectly unfinished, finished look. It was a clever detail; one that almost made up for the distinct lack of shirts.
Burberry
In quintessentially English style, Burberry opened with rain. Pouring, pelting, drenching rain, projected onto the back wall with a noise that quite literally drowned out all other sounds. The weather, it would seem, had been on Christopher Bailey's mind.
Looking through the company's archives, Bailey discovered a series of early 60s campaign images that depicted men in the elements - rain, wind and snow. And thus the Winter 2012 collection was a celebration of coats.
They came served up by the dozen, and the offering was broad. Think of a coat and it was there - in all manners of colours - and no two were the same.
There were Swanndri-esque red and black check coats in blanket wool, duffel coats in puffy yellow down and double breasted coats in dark fur. Oversized herringbone coats with fur trim, yellow vinyl raincoats and camel trench coats.
Each was paired with a pair of narrow charcoal trousers and Christopher Bailey's take on Doc Martens - the boots featured a zip up front while the lowtops were brogued or tassled, some with chunky white soles.
With perfect ring composition, the show closed with rain. Pouring, pelting, drenching rain, this time quite literally falling from the ceiling. It was a thrilling moment for all concerned - none more so than the models. Their clear plastic raincoats kept them dry, but you couldn't wipe the grins of their faces.
Salvatore Ferragamo
Besides Lady Gaga and perhaps Kanye West, there are few modern-day performers whose on-the-street outfits pack as much punch as their on-the-stage ensembles. But just a few decades ago, to be a rockstar meant to have a look; one that shocked, thrilled or seduced. Such was the feeling at Salvatore Ferragamo, in a collection that exuded luxury and rogue insouciance with brazen abandon.
Backed by The Doors' Riders on the Storm, models strolled out in extra long-haired shearling jackets, head-to-toe teal suede and flashy pinstriped suits, with vagabond hats pulled firmly over their eyes.
A true rockstar should dress with emotion, and the offer included an outfit to suit every mood - jetsetting, high-rolling, war-timing and streetside hustling.
Envy the man who can wear it well, but pity the ill-advised fool who tries. It's an elitist approach, but nobody ever accused fashion of being a socialist mode of expression.
Vivienne Westwood
Think what you may about the clothes (the word outlandish often comes to mind), but attending a Vivienne Westwood show is an experience that should never be passed up.
You're greeted at the door by a team of PR agents in various states of costume: There's a small man in a madras check suit with pants tucked into socks, a camp man in a tiny white t-shirt emblazoned with the word 'METROSEXUAL' and a Chinese man in a suit with a billowing oversized t-shirt covering the blazer.
Then it's onto the catwalk where a bunch of Leigh Bowery types with fluro clown wigs and full face paint are being cat-called by the photographers.
There's a single A4 sheet of paper lying on each seat bearing a message seemingly penned by Westwood herself: "When the lads who now model in our show came to the casting they looked so different from one another, different types, different characters. Yet every one of them as well as being clever and sweet seemed to be a perfect beauty... And because these lads are clever it happened that we styled them as young intellectuals - student types. all ready for life + love + responsibility. With royal marriage in the air, who would you choose to be your bridegroom? Come on girls our catwalk is your chance to dream."
By the looks of the boys on the catwalk, with their cherry red lips and band-aided eyebrows, they're students of the school of hard knocks. Or some theatre makeup academy. It's hard to tell.
Nevertheless, when she comes to take her bow, Vivienne Westwood grins with the vitality of one far younger than her 61 years. And the crowd loves her for it.
A personality as large as hers is sure to attract a flock of like-minded admirers, and judging by the applause, Vivienne Westwood has fans to spare.
Prada
Miuccia Prada is one heck of a variable designer. She'll show spikes and studs on charcoal suits one season, bold colours and double denim the next. Just when you think you might have an inkling as to where she's going, she'll smack you in the face with a collection so leftfield that you'll be more than a little bemused as you attempt to unravel the mysteries within. Welcome to my world.
Prada Fall 2011 may have been inspired by jockeys - there were jodhpur-esque trousers, shiny lurex stretch tops and diamonds reminiscent of those worn by small men on horses. It might have been influenced by New Jersey Wiseguys - you can imagine those zip-up tracksuits on a bunch of low level mobsters sitting around a smoky bar. Or perhaps it was golf - those long shorts bore a vague resemblance to skinny plus-fours.
But of course, none of that explains the boxy blazers or the coats that were large enough to hide an extra body below the surface. Or the predominance of drop-shoulder polo shirts in a smorgasbord of colours and patterns, or the glittery vee neck/t-shirt twinsets.
What I can do, is tell you what I liked: The sheer, black, drop-shoulder polo shirt; the boxy leather satchels in browns and blues; the black suede blazer with maroon diamonds on the chest; the glittery blue lurex polo shirts; the orange and maroon diamond blazer; and the ochre suede trousers.
* For more from Isaac, see isaaclikes.com.