We're a nation of people who love our food and dining out — but do restaurateurs love us? Dionne Christian runs the rule over our eating habits.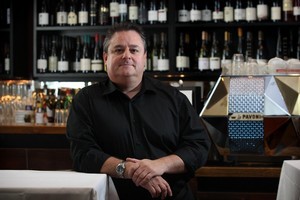 New Zealanders love eating out. Between us we help sustain a local restaurant trade that turns over an eye-watering $14 million a day.
Even in belt-tightening, post-recession times, when we're still far from a flash or rapid recovery, Restaurant Association of New Zealand chief executive Steve Mackenzie says dining out remains the "little indulgence" many won't sacrifice.
A recent survey by American Express shows a third of us dine out at least once every week and two-thirds do so at least once a month.
American Express vice-president Geoff Begg described New Zealanders as discerning diners who look for the "total package".
"Cost ranks behind the quality of the food - and only marginally ahead of excellent service and a good atmosphere - when choosing a place to eat."
When you combine this love of eating out with the mushrooming number of television food shows, celebrity chefs, glossy cookery magazines and books, it means many of us now descend upon restaurants as armchair food experts - or at least we like to think we are.
Our expectations of the restaurant experience are higher than ever before. But what of the expectations chefs, kitchen-hands, sommeliers and wait staff have of customers?
Has our love affair with food created more sophisticated sensibilities, or simply increased the number of boorish food snobs who make even the most long-suffering waiter and chef grind their teeth? How much do we really know about what goes on behind the scenes?
Canvas turned the tables and asked representatives from the restaurant industry, training institutes and four different but successful establishments - from fast-food to five star - to rate their customers and shed more light on what they do.
Despite coming from markedly different rungs of the restaurant food chain, the similarities are noticeable.
Those we spoke to love the sociability of their jobs. They tend to be night owls who like nothing better than discussing food over a good glass of wine. They travel to get new ideas, working in hospitality is the only thing they have ever done - and they can't imagine doing anything else.
Also noticeable are the parallels between their peeves with patrons. They want us to be more adventurous, book and turn up on time, inform them in advance of special dietary requirements and not to vomit or throw pots of tea in the restaurant.
Overall, problems with customers tend to be minor because most of us want to enjoy a good meal and pleasant company without incident. And there's the first issue.
A whopping 89 per cent of people pick an eatery on a word-of-mouth recommendation and if they've heard bad things about an establishment, they'll steer clear.
But we're not noted for speaking out if we're unhappy with a meal or the service. We might complain to one another but when the server arrives to check everything is "okay with your meals" we're likely to smile through gritted teeth and nod.
"They may have told all their friends about a bad restaurant experience but not mentioned it to the restaurant," says Mackenzie.
He encourages "customer feedback", saying if you have an issue with the food or service, talk to the manager or, better still, the owner if they're different people, and state clearly, without shouting in front of the entire dining room, what the problem is.
"It gives the restaurant staff a chance to rectify the issue and learn and ensure the same thing doesn't happen again."
John Kelly, who heads Auckland University of Technology's Culinary Arts department in its School of Hospitality and Tourism, says restaurants must be willing to act rather than dismiss a complaint as one person's opinion.
Working in an upmarket London restaurant, Kelly was told a man was in the gentlemen's toilets throwing up. He investigated and found a Muslim businessman deliberately making himself sick.
"It was against his religion to consume alcohol in any form. He had ordered a meal which, by all accounts, was alcohol-free but there was brandy in the sauce and he could taste it. He was so horrified that alcohol had passed his lips, he rushed immediately to the bathroom to make himself sick."
Given that the restaurant was frequented by a large number of Muslim customers, it was decided to remove all alcohol from sauces and marinades.
"It was simply too important a customer base to lose."
But some people are simply contrary. A McDonald's survey revealed of those who claimed to "hate" the fast-food chain, a sizeable portion still ate there twice a year.
Yet McDonald's shows a surprising degree of responsiveness to customer feedback, given it is an organisation frequently criticised for rigid adherence to systems and processes.
Mark Hawthorne, managing director of its New Zealand operation - 10,000 staff working in 158 outlets serving more than one million customers a week - says cooking and preparation methods have altered, so burgers are now assembled rather than cooked to order, to provide greater choice.
"Of our customers, 80 per cent wanted to change something on their burger so we converted all our kitchens from a 'grill direct' to a 'made for you' platform that allows us to do this," he says.
The tried and traditional offerings remain the most popular: Big Mac, Filet o' Fish, fries, chicken nuggets and, at breakfast, Bacon & Egg McMuffins. Hawthorne, who joined McDonald's as a 15-year-old schoolboy, has his own theory.
"I think we all like a bit of stability in our lives. We like things to stay the same but occasionally, we feel like something different. I'm a Big Mac man myself, but when the Boss burger comes on as a special, I'll have one of those for a change."
While we can choose from a dizzying array of cuisine from American to yum cha, we remain fundamentally cautious when it comes to what we eat. Our restaurateurs would like us to be more adventurous but accept they can tempt us by slowly but surely introducing new tastes and food combinations.
One of the major requirements for any restaurant looking to stand out from the thousands of eating establishments is a unique taste or a signature dish.
Five-star O'Connell St Bistro was founded by Chris Upton. Aged 14, he got his first job at a pub near his home in Devon, went straight from school to catering college, joined Whitbread PLC, Britain's largest hotel and restaurant company, then hooked a four-year stint on board cruise liner the QE2 before arriving in New Zealand in 1987 with $300 in his pocket.
Landing a job within days, he worked in some of the country's most prestigious establishments before opening the bistro in 1997. Head chef Stephen Ward has been with the Bistro for 11 years. Upton trusts his judgment implicitly.
The food is hearty, robust and consistently good European bistro style. Its signature dish is the wildly popular pappardelle of braised wild rabbit, house smoked bacon, walnut watercress pesto and Parmigiano Reggiano.
Food and wine writer Vic Williams once wrote that if the pappardelle were removed from the menu, there would be another riot in Queen St.
So the dish is a staple on a menu that is comforting and familiar but simultaneously on the cusp of innovation, gently introducing diners to new tastes. Southland lamb rump, braised organic lentils, wilted kale, chorizo and confit garlic puree certainly give new meaning to meat and three veg.
But such success can prove a straitjacket.
A world away from the central city, Clevedon Cafe in rural southeast Auckland attracts most of its customers from surrounding farming and fishing communities.
It's been an established neighbourhood favourite for more than a decade but owner/manager Alison Wilson and head chef Natasha Collins do not rest on their laurels. Wilson says customers would stop coming if standards dropped, Collins says she'd take it personally if someone sent a dish back.
"I want the food I create to be perfect," says Collins, who trained in Simon Gault's Gaults on Quay alongside high-profile chefs Michael Meredith and Jeremy Schmid.
She enjoys designing new dishes but a few years ago, Collins created a monster. She combined chicken, a Kapiti blue and a cream cheese. It was phenomenal; so much so it seemed as if every second order - for months on end - was for the Kapiti chicken.
She got bored and eventually removed it from the menu. "It was time for a change. I had to say, 'no more' and ask the front-of-house staff to steer diners in the direction of something that was equally good but not Kapiti chicken. I will still make it, though, if I have a special request for it."
At Auckland's Viaduct, Grand Harbour Chinese Restaurant was one of the first to offer yum cha lunch and a la carte dinner service 365 days a year - even Christmas Day because, says Stephen Chan, one of its owners, Auckland is an international city and visitors expect to find somewhere open.
When his restaurant opened in 2000, originally patrons were 90 per cent Chinese. The mix now includes 50 per cent Chinese.
While the usual restaurant routine is to sit down, receive a menu, order from it and wait until the food arrives, establishments offering yum cha - a Cantonese term meaning "drinking tea" - turn this on its head.
Its philosophy and style of food and service harks back 5000 years to culinary traditions of southern China, Hong Kong and Macau.
No sooner have you sat down than an array of people appear at your table, wheeling trolleyloads of dim sum. Translated as "touch the heart", dim sum includes various types of steamed, baked and fried buns and dumplings containing a variety of ingredients such as beef, chicken, pork, seafood and vegetables.
Each dim sum is small, with three or four pieces in one dish. These are complemented by plates of Chinese vegetables, roasted meats, savoury porridges, known as congee, and soups.
Despite all this choice, Chan still encounters stubbornly conservative tastes. "We do get parents who will ask for a plate of fries for their children and we have to explain that we don't serve them."
He admits non-Chinese diners still shy away from the chickens' feet, tripe and seaweed.
"Chickens' feet are a classic yum cha dish and it's delicious. The feet arrive in the kitchens and are thoroughly scrubbed and washed, with the first two layers peeled back. They are then flash-fried in boiling hot oil and marinated in a sauce for at least a day and a half before they are steamed and served.
"The best part of the chicken is the skin and the feet are nearly all skin. They're great - you should try them."
And what of booking?
O'Connell Street Bistro, one of the most successful restaurants in New Zealand with a slew of local and international awards, is an intimate space with just 12 tables and a separate private dining room for functions and groups.
"Bookings are spaced to allow the kitchen and the dining room to work best," says Upton, noting some will accept a table at 7.30pm but not turn up until 8pm - their preferred time - only to complain if there's a wait.
"We space our bookings to ensure we can look after our guests as best as possible. It is very difficult to do that when everyone arrives at once. We cannot cook 40 quality meals at once to arrive at every table at the same time."
Chan says weekends are frantic at Grand Harbour. The tables can turn over three to four times - that's around 1200 diners - but he stresses labour and food costs don't add up to big profits.
A seven-day-a-week, 365-days-a-year operation requires a small army of staff and suppliers. Grand Harbour takes deliveries daily from a range of specialist suppliers, some of whom have developed businesses to provide, for example, the Chinese vegetables in the volumes the restaurant requires.
With its sister establishment, Grand Park in Epsom, it employs a total of around 150 staff. One team arrives at 6am to prepare from scratch up to 80 different lunch dishes while a second team clocks in late morning to prepare for dinner.
Mackenzie says it's a widely held but false belief that running a restaurant is a licence to print money. Association estimates show many make a profit of somewhere around 4 per cent.
"Restaurants are heavy on 'human resources'. Labour costs often account for 30 per cent to 40 per cent of revenue, followed by food costs which eat up about 35 per cent of your revenue.
"Overheads, like rent and utilities, soak up the rest. Think about the refrigerators, the lighting, the point of sale machines at a restaurant or bar and you'll soon see electricity costs can be very high."
Of course, customers still quibble about price and some of those quibbles descend to dishonesty.
AUT's Kelly recalls an elderly London dowager who, every Thursday lunch, would sit herself down and order the eggs benedict. And every Thursday, shortly after finishing the eggs, she would complain loudly and bitterly that they were not cooked to her satisfaction.
Initially her money was refunded but when, week after week, the complaints continued, there were even discussions about removing the dish from the menu because of her. Kelly decided she was "scamming" the restaurant for a free meal.
"I said I would deal with her the next time she came in. After all, it seemed ridiculous to remove a popular dish because of one difficult customer. I explained that we didn't seem to be able to cook the eggs to her satisfaction, despite many attempts, and she could no longer order them. She could order anything else, just not the eggs. She still continued to come in but she never ordered the eggs or complained again."
Clevedon Cafe's Alison Wilson says the greatest challenge recently has been staying one step ahead of the recession. Like others, Wilson has introduced innovations like set or specially priced meal options, tasting plates and more targeted marketing strategies.
Recently, a woman asked for a chicken salad but instead of chicken, she wanted smoked salmon - at the same price.
"There are things in life which are simply not worth making a fuss over or getting upset about," Wilson says. "I gave her what she wanted: smoked salmon salad at the same price as a chicken salad - but it was a small piece of salmon."
Hawthorne says the worst nightmare for anyone staffing a drive-through is when a big order comes through from a carload of budget-conscious people who all want to pay separately on Eftpos.
"From our research, this situation is pretty unique to Kiwi customers."
Catering for those with special dietary requirements is becoming more common. Wilson and Upton say their kitchens can put something together for diners with special dietary requests but they wish they could be told at the time of booking so the kitchen could create a truly imaginative meal rather than something at the last minute.
As Upton says, forewarned is forearmed, but in the restaurant game you often don't get a lot of warning and things sometimes do go pear-shaped.
During a lifetime in the restaurant trade, Chan, whose grandparents and parents ran some of Christchurch's earliest Chinese restaurants, had never seen anything like it.
A customer turned from gentleman diner to thug in the space of a mobile phone call - his girlfriend rang during lunch to end their relationship - and hurled a pot full of scalding hot tea across the packed dining room of Grand Harbour.
Filled to capacity and with numerous staff wheeling trolleys laden with dim sum, Chan had to act quickly before anyone was hurt. He wrestled the agitated customer out of the front doors, which he promptly slammed and locked.
He then faced the man's burly companions, fearing he was about to experience their wrath. Instead, they apologised, paid the bill plus extra to pay for any damage, apologised again and explained their friend had been drinking before arriving at Grand Harbour.
Shaking, and in need of very strong Chinese tea, Chan walked back into the dining room where he received a standing ovation from the restaurant's grateful patrons.
"It was the most extreme thing I have ever witnessed or experienced from a customer. You don't expect that type of behaviour, you certainly don't expect someone will arrive at your restaurant for lunch on a weekday and, despite showing no signs, already be drunk."
As a shift manager at McDonald's in his native Australia, Hawthorne was punched in the face by a drunk woman who tried to steal the Ronald McDonald House charity collection box from the front counter.
He had another woman "flash" him to try to get a free meal.
"It can be a tough gig and I don't believe the customer is always right in some situations. If a customer is rude or threatening to staff or other diners, I don't want them to be in one of our restaurants."
Upton says he and his staff discreetly stop alcohol service to the table and suggest the diners have enjoyed their evening and would they like a cab called for them?
But sometimes the most disorderly diners haven't drunk anything stronger than lemonade. They're kids, especially those aged 3 to 6, when waiting patiently for food and making quiet conversation are not high priorities.
Wilson, a mother of two, says children should come to restaurants because dining out is an integral part of life. And they will become the bread and butter of the industry in the future.
But she wishes some would pay more attention to their young companions.
"There is a real risk of serious injury if a child runs into someone carrying hot drinks and food. I have no hesitation in asking, sometimes quite firmly, a child to sit down or to play more quietly."
Mackenzie, himself a father of one, says all diners - not just parents - ought to be more careful about where food ends up.
"Would you arrive at a friend's house for dinner, spill stuff all over the floor, throw up in their bathroom - or worse - then say nothing and simply leave without an apology or an offer to do something towards cleaning up? I don't think so. But there are some people, thankfully a small minority, who think it is okay to behave like that."
Rather than unruly customers causing the heart-in-the-mouth moments, it's the unanticipated "act of God" that is often the stuff of true kitchen nightmares.
Six months after Upton opened O'Connell Street Bistro, the lights went out. It was January 1998 and a power outage caused a five-week long blackout in central Auckland. As business after business permanently closed down, he determined his restaurant - fast building a reputation as one of the best in town - would not join them.
Upton hung up a "temporarily closed" sign at the Bistro and directed the hungry to Cafe Melba, the nearby Vulcan Lane establishment he also ran. Using a generator and a gas-powered barbecue, he and two chefs kept the food coming.
"All around us offices and cafes were closing down but a bit of stubbornness came into play for me. We put candles on the tables, which made it quite romantic. Those who were around would spot the candles and come in to eat.
"We didn't make any money, but we did manage to keep paying our staff and we had to re-build [the client base and marketing of] O'Connell Street Bistro almost from scratch. The power crisis was, without doubt, our biggest kitchen nightmare."