No one wants to spend their holidays slaving away in the kitchen. Here are some super tasty, easy meals.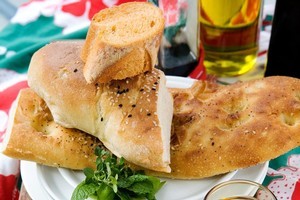 As we near the end of the year, the prospect of a few days relaxing in the sunshine is pleasurable.
Make sure you have a few key ingredients to take with you on holiday that will make those impromptu meals all the more tasty.
Depending on how remote the location, general stores these days can be quite well stocked, but just in case all you can find is a dusty bottle of vegetable oil it may be a good idea to throw a few more inspired ingredients in the chilly bin before taking off.
I'm not talking about anything too fancy - after all, holiday eating should be a relaxed affair. Good oils, fresh herbs, a delicious cheese or two and good quality bread will make all the difference when paired with fresh salads and seafood.
A tub of ricotta is a handy ingredient. Try spooning it on top of toasted bread with greens and sweet baby carrots - it has a lovely texture and fresh flavour and also works well with fruit and berries with a drizzle of honey.
Aged gouda is rich and gutsy and goes well with grilled beetroot and fennel, especially when you add a dribble of walnut oil.
A good olive oil is the obvious choice to take as it is the most versatile, but throw in a bottle of chilli avocado oil as well for an instant pep to the morning bacon and eggs. Whisking with a squeeze of lemon and a sprinkle of salt creates an instant salad dressing too. Taking a few loaves of good bread can be a lifesaver for one who is especially fussy in this department. When a loaf of white bread won't cut it, being able to toast lovely wholegrain bread and sourdough on the grill, brushed with oil, is a simple pleasure.
Go on, make some room in that well organised chilly bin for a few extra treats - even a handful of fresh basil leaves can transform a salad all by itself. After all, there is nothing more pleasurable than taking time to relax and eat fresh, simple food with friends and whanau. Happy New Year.
Chef's tip
Slice up crusty sourdough and freeze it as soon as you arrive so you have good quality bread for toast in the morning and bruschetta to throw on the barbecue.