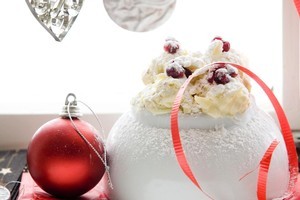 Makes 24
1/4 cup cream
2 Tbs brandy
1/2 tsp vanilla extract
200g white chocolate, plus 100g extra
2 tsp passionfruit pulp
2 Tbs butter, softened
Pomegranate seeds
Icing sugar
1 Heat the cream in a saucepan. Bring to a boil and reduce until 2 tablespoons. Stir in the brandy, vanilla and the first measure of chocolate. Stir over a very low heat until the chocolate has melted.
2 Stir in the passionfruit and the butter. Spoon into a container and put into the fridge for approximately 30 minutes or until firm.
3 Scoop the mixture into small spoonfuls and roll using wet hands into small ball. Place on a chilled plate with space between. Grate the extra chocolate all over the truffles then put the pomegranate seeds on the top. Put back in the fridge until firm. Dust liberally with icing sugar before serving or putting into a gift box.