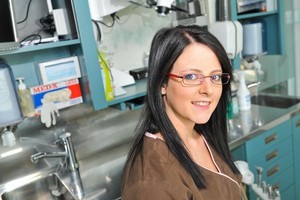 Buyer beware: That's the expert advice for beachgoers wanting a quick fix to brighten their pearly whites for summer.
DIY bleaching kits are sold at supermarkets and pharmacies for as little as $30 and some claim to whiten teeth "by up to seven shades".
But the Environmental Risk Management Authority (ERMA) is reviewing the rules around the use of hydrogen peroxide - the active ingredient in dental whitener - after the Ministry of Health flagged the products as potentially harmful.
High-strength products such as the 16 per cent hydrogen peroxide Lovely Smile 3-in-1 Whitening Pen (Life Pharmacy, $50) could be banned if new regulations are implemented.
The less potent Hollywood Nights Tooth Whitening Wand with 3.5 per cent hydrogen peroxide (Foodtown, $33) could remain on the supermarket shelves.
Stronger bleaching products will continue to be available from dentists.
Ministry of Health chief dental officer Robyn Haisman said: "The risk of adverse effects from the use of these products is not adequately controlled in order to protect the public from harm.
"The greater the concentration of hydrogen peroxide used, the greater the risk."
The distributor of Lovely Smile, Jayjay Joshie, said tooth whitening products would be ineffective with less than 12 per cent hydrogen peroxide - "3.6 per cent? That's pathetic," he said.
He claimed the Lovely Smile pen was safer than weaker products because it contained potassium nitrate and calcium phosphate to "remineralise" the teeth during treatment.
Rather than restricting the ingredients, Joshie said products should carry a warning label so consumers could make an informed choice.
The Dental Council is the government-mandated regulatory body for dental products.
Council chairman Robert Love said the common chemical found in over-the-counter whitening products could damage teeth irreversibly and even kill teeth with cracked fillings or untreated cavities.
"Hydrogen peroxide around 4 per cent is effective with minimal risks," he said. "But you can buy stuff that has 30 per cent and that could cause a lot of damage."
He said all DIY tooth whiteners should also carry warnings against long-term use.
The effectiveness of over-the-counter products was also questioned by NZ Dental Association chief executive David Krump.
"They will lessen surface stains caused by drinking tea and coffee but there's no such thing as taking your teeth back six shades," he said.
"If the natural colour of your teeth is less than white, it is not going to make a difference at all."
But Otago University dental professor Murray Thomson warned that even professional tooth whitening might be risky.
He said some operators were not qualified dentists and sidestepped regulations by calling themselves "cosmetic centres".
"Teeth are very fragile and we're talking about some serious chemicals being applied," Thomson said.
"I'd actually be reluctant to have something that caustic put on my teeth by someone without proper qualifications.
"You'll be left with an expensive dentist bill to get it all cleaned up - if the damage is even able to be fixed."
SPEND MORE NOW TO SAVE IN THE LONG RUN
Trainee dental therapist Jennifer Lunt wants a Hollywood smile for her wedding next summer - but she won't be going near the over-the-counter products.
Four years ago she bought a $30 Pearl Drops whitening kit from the supermarket because one of her eye teeth seemed off colour and she was impressed by claims that the hydrogen-peroxide based product would brighten her smile by several shades.
"It turns out the tooth had died over a period of time and was infected. When I changed dentists this year I needed a root canal and a white composite filling to cover the discoloured tooth," the 22-year-old said.
Lunt said if she had trusted her instinct and gone to a new dentist, rather than buying a cheap whitening kit, she would have saved more than $1500 in expensive and painful dental work.
"The packaging on a kit you get at the supermarket can't give you proper dental advice or tailor a treatment that's suitable for you," she says.
Lunt, who is in her third year of studying oral health at AUT University, says over-the-counter whitening kits are a "marketing ploy".
"It needs to be restricted because someone could really harm themselves using it, especially if they keep on lathering it on like the instructions say.
"I definitely want something done for the wedding but I'm going to pay good money to get it done properly.
"I know home bleaching won't work."