The quest may no longer be for the elixir of immortality but with an ageing population there is increased awareness of what it takes to live long and well, writes Dionne Christian.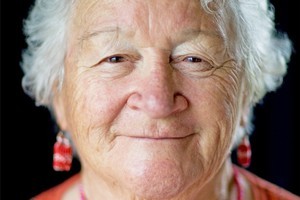 So you've just returned home from a brisk early morning walk with the family - which followed a breakfast of high-fibre, low-sugar cereal topped with fresh fruit and acidophilus yoghurt.
It is the weekend and you're conscious of the need for work/life balance, so now you'll do some gardening with the kids before the babysitter arrives and you join friends for dinner.
You'll probably order chicken, skin removed, of course, with a brown rice pilaf. You may have a glass of wine. One glass, that's your limit. You rarely drink more than that and as for smoking, you threw away the ciggies a decade ago.
Besides, you don't want to be out too late. The whole early to bed, early to rise makes you healthy, wealthy and wise is an adage you like to live by. Obviously the wealthy part appeals but so does the healthy, especially when it comes to longevity.
You can't imagine a world without you in it so you're planning to live as well and long as possible. The title of Roger Hall's play Who Wants To Be 100? (Anyone Who's 99) resonates strongly because you want a telegram from the Queen.
Or King. That's if the monarchy outlasts you.
But will the exercise, the healthy diet, reducing your alcohol intake and quitting smoking really help you achieve wrinkles with twinkles? While the experts strongly believe health measures aid longevity, no one actually knows what it takes to live a long life in New Zealand.
In our youth-obsessed and death-defying society, there has never been a detailed study into how and why some New Zealanders live longer. International research can only tell us so much.
Now researchers from the University of Auckland are recruiting 1000 "golden oldies" to take part in an ambitious and far-reaching study to learn how and why some of us survive to a ripe old age.
The Lilacs NZ (take a breath and say it slowly: Life and Living in Advanced Age: A Cohort Study in New Zealand, Te Puawaitanga o Nga Tapuwae Kia Ora Tonu) longitudinal study aims to interview 600 Maori aged 80-90 and 600 non-Maori aged 85 from the Bay of Plenty - that's the Tauranga, Rotorua, Whakatane and Opotiki areas.
Participants undergo a detailed interview, a free health assessment including a blood pressure check, and give blood to determine biological markers of ageing such as cholesterol and homocysteine levels.
Researchers will then visit participants during the next 10 years to follow changes in their lives and to see if they can discover the "secrets to longevity" by comparing results from those who make it most or all of the way through the study with those less fortunate souls.
The Bay of Plenty was chosen because of its diversity and large Maori population. Rotorua is in a geothermal area, has a stable population and an economy based around tourism and primary production. Opotiki, Te Kaha and Whakatane are by the sea, while inland settlements have a forestry focus and Tauranga is a growth area. Findings will be used to develop local and national policies for older people throughout the entire country.
Older people have been defined as those aged 65 and over but the Lilac team say it is of limited use to homogenise all senior citizens like that. After all, there's likely to be a world of difference between a 65-year-old and someone of 87 years.
According to the 2006 Census, there were 495,600 New Zealanders aged 65 and over - up 45,200 on the 2001 Census - with 75 the median age for women and 73.4 the median age for men.
Of more significance is the growth in the number of those aged 85 and over. The number of New Zealanders in that demographic is expected to more than quadruple from just under 57,000 in 2006 to 322,000 by 2051.
So informed debate needs to happen on issues like employment and retirement, raising the pension age, healthcare, ageing in place - as opposed to in rest homes or hospitals - living standards, well-being and the quality of life our senior citizens have.
But lead researchers Ngaire Kerse, Lorna Dyall, Mere Kepa and Karen Hayman, don't want the debate limited to cost benefit analysis or dry financial facts and figures.
While there are questions about nutrition, physical fitness and health in the Lilacs questionnaire, researchers also want to know more about the mental, social, spiritual and family aspects of life and the environment around people as they age.
"Society is focused on the young," says Kepa, who looked after her father in his senior years. "It's a liberal society with the emphasis on rights rather than the co-existing responsibilities that come with those rights. After all, we don't live in this world on our own. Now we are an ageing society, it's about time we started thinking more about our obligations in respect of our elders and finding out more about what it means to be elderly."
Kerse firmly believes the study should consider how the elderly can share their wealth of knowledge and experience with younger generations and, in turn, be accorded greater respect.
"I like to put it like this, 'who makes your Christmas cake?' If you've got a grandmother, an elderly aunt or an ageing mother, I bet it's one of them."
Kerse says the contribution elderly people make to the volunteer sector, for example, and to family in general is often overlooked. A professor of General Practice and Primary Health at the University of Auckland's School of Population Health, she works at a GP practice in Herne Bay and has long been interested in maximising health for older people.
Kerse credits her grandmother, Agnes Hodge, with teaching her to value older people. She recalls with great fondness childhood holidays spent driving from her Southland home to Hodge's home in Motueka.
"She had a magnificent vegetable garden and orchard - plums, raspberry vines and wild strawberries. She just knew so much and was so self-sufficient. She was pretty much independent right up until she died, aged 95. It is so important to maximise health for older people so they can enjoy the last years of their lives to the full, because they have a right to it."
Study participant Ina Benbow is a former accounting and economics teacher. Now 86, she retired in 1978 aged 55 but started voluntary and community-based work, particularly for the SPCA and later for the Heart Foundation.
Happily living in her own home, with a dog and cat for company and a good social life, Benbow's garden is immaculate and her cooking divine. She is almost self-sufficient in her garden, saying it provides a chance for physical activity. A couple of days before her Canvas interview, Benbow was collecting for the Cancer Society's Daffodil Day.
She always wanted to contribute to the world. Volunteer work for her favourite charities was a way to do that and to step out of her comfort zone. Trying new activities - the "Just Do It" philosophy - is one of the many things she believes keeps her young.
"People talk about having a 'bucket list' when you get old," Benbow says, in reference to the movie comedy about two elderly men who devise a list of everything they want to do before they "kick the bucket".
"I think everyone, no matter what their age, should have a bucket list of goals and dreams. I had one right from the time I was a teenager. I wanted to leave Temuka [her hometown] and to see the world and growing up during the Depression, I thought there had to be a better way of life."
In 2000, when she was 76, Benbow put her charity work on hold. She sold up, bought a four-berth motorhome and embarked on a four-year journey around New Zealand. She also motorhomed around Australia and took trips to China, Russia and the rest of Europe.
"Forget about your age, I like to say, because it's only a number on a piece of paper. But with a lot of people, well, they almost become obsessive about being old. They might want to do things, to try something different but just will not.
"It isn't that they cannot, it's that they won't and there is a world of difference between can't and won't. I think it's good to step out of your comfort zone, to challenge yourself. The world really is your oyster and it's up to each individual to make the most of what they have and what they can do."
She says from a budget point of view, her excursion around New Zealand made sense. Most nights she stayed at holiday parks for around $10 a night.
"Everyone needs to learn how to budget," she says. "It's especially true when you're elderly but it's not what you earn, it's what you spend that counts."
Ask Retirement Commissioner Diana Crossan how much money you need to enjoy your last few years and she says it's like asking how long is a piece of a string. The answer depends on who you are and what type of lifestyle you have and want. Crossan says a realistic figure is about 70 per cent of what you earned before retiring.
"Some people panic when they see how much they need but it comes down to making choices. You have to ask questions like, 'do I want an overseas trip each year?' and 'what if I have unexpected medical expenses?"'
She says the time to start thinking about saving for retirement is when you first enter the workforce but she acknowledges that's extremely difficult for many of us to even consider.
"You're 18, you've just started work and you've got money for the first time. You simply can't conceive of being 80 and worrying about money."
Crossan recommends checking out the Retirement Commission's website retirement.org.nz and finance site sorted.org for advice on how to get started with retirement savings and other budgeting tips.
It wasn't money worries alone that got Betty McPherson, 75, thinking about how she wanted to spend her senior years. It was a combination of concern about the impact poor health might have on her and her family.
When McPherson was 49, her husband, then St Stephens School principal Frank "Scotty" McPherson, died unexpectedly of an undiagnosed heart condition. He was 50. The couple had been together since they were teenagers in Northland and married when she was just 18.
"When Scotty died, I didn't want to go on living. I kept working, going through the motions, but I didn't really care about myself. Then one day it hit me that I could go on living for years and if I didn't look after myself, I would not have a good end to my life and would be reliant on others to take care of me."
So McPherson started swimming, walking and dieting. She still watches what she eats and exercises daily. Her health issues are limited to rheumatoid arthritis and a heart fibrillation problem, which is controlled by medication.
"I'm always telling people that when they go to the doctor, they have to take the medication they are prescribed and follow the doctor's instructions. I mean, do they want to live or die?"
McPherson works in Pukekohe as a resource teacher for learning and behaviour. She helps schools turn around the lives of kids with behavioural or learning problems and simply cannot imagine retiring. "I like making good friends with the families I work with and making a difference in children's lives."
A mother of eight - nine, if you include the nephew she helped raise - McPherson became involved with Lilacs through the Ropu Kaitiaki o Nga Tikanga Maori (Maori governance). The group is working with the University of Auckland team to ensure appropriate protocols are followed with Maori participants.
"There is still an eight to 10-year disparity in life expectancy between Maori and non-Maori," says Kerse. "We can't deny that disparity and therein lies a whole lot of other questions."
McPherson believes part of the problems lies in the fact Maori have moved from the country into cities and, by doing so, abandoned healthier lifestyles.
"People were on their own lands, growing or gathering their own food and getting a lot more exercise in the process. I remember when I was a child doing all that stuff. My grandmother taught us how to collect karaka berries, boil them in a big pot of water then steep them in running water for two weeks, then dry them. They were like our peanuts."
Dr Carol Wham, Lilacs co-investigator and senior lecturer at Massey University's Institute of Food Nutrition and Human Health, believes it's never too late to improve eating habits and this can help with health and well-being.
She says it is vital to maintain a healthy weight and keep active to prevent age related decline in muscle mass.
"Age has an important impact on body composition. There is an inevitable loss in lean mass - skeletal muscle and bone - with ageing and a relative increase in body fat. However, the requirements for most nutrients are not reduced, which means foods with a higher nutrient density should be preferred."
Wham says age-related decline in muscle mass, known as sarcopenia, results from genetic and environmental factors and speeds up after 80 years of age. The main effect is reduced muscle strength, which can cause general physical decline and mobility and balance issues.
Likewise, gastrointestinal function and absorption functions decline with age, as can taste. Medications taken for other conditions may impair taste and smell and affect food intake.
But the number one reason for age-related weight loss is depression, especially after losing a spouse. Food and eating have social meaning and eating with others helps enhance nutrient intake.
Not surprisingly, McPherson and Benbow cannot stress enough the importance of staying socially engaged.
"It can be very hard to come to terms with getting older, seeing the people around you pass away, but try to keep on making new friends, preferably younger ones, and try to hang on to your sense of humour," says Benbow.
South African-born long-time Otago resident Don Morrison is soon to turn 81. The father of six and grandfather to 12 says we need to see ourselves as having a more symbiotic relationship with the world around us.
"Perhaps it's because I grew up in Africa, I believe the world - the environment and the people in it - is a closed system where everything is related to everything else and dependent on things staying in balance. I think life should be about respecting and trying to maintain balance within those relationships in the community and the wider environment. I'm not a person who believes in an after-life or anything like that but I think your influence lives on, so you should make sure it's positive."
Like many older New Zealanders, Morrison is no longer in paid employment but like nearly one-fifth of those aged 65 and over, he is active in community and voluntary work.
A former physical education teacher, he helps a local primary school with its "Grandparents Programme", acting as a mentor for pupils. He assists with the Police Blue Light youth mentoring scheme and is a trail boss for the annual Otago Goldfields Cavalcade.
Since 1991 the Otago Goldfields Heritage Trust - of which Morrison is a life member - has organised the event for horse riders, wagoners and walkers. They trek across the country and hills of Otago to a host town, re-tracing the steps of gold miners who sought their fortune at the end of the 19th century.
As a Walking Trail Boss, it is Morrison's job to walk the proposed route of his trail, checking everything is in order, gaining permission from landowners to traverse their properties, arranging accommodation and catering and preparing a budget. He then leads the group on the trail.
No surprise then that when Morrison is not taking care of his 4ha garden property he's out walking, either on his own, with the Clyde Off-Road Walking Group or as a leader of the Milton Rotary Tramping Club, which attracts a fair number of its participants from the North Island.
"I live 4km from the nearest town but I seldom use a car. I prefer to go by bicycle or walk. I love walking, it's my hobby. I've always kept myself fit and I've never drank or smoked, mainly because I couldn't afford it."
Grant Schofield, Professor of Public Health at Auckland University of Technology and director of its Centre for Physical Activity and Nutrition Research, describes Morrison's physical activities as excellent.
Schofield believes maintaining social connections and keeping active are the two most important things we can do to live long and healthily.
"The interesting point is that those two things tend to happen in tandem. If you're active in your senior years, it's likely you are doing so with other people."
He can point to numerous studies showing the positive effects of exercise on physical health - the "use it or lose it" philosophy - but extends that to mental health. For example, exercise improves circulation and that's good for your brain which occupies two per cent of the body but uses 25 per cent of its energy.
"A healthy mind depends a lot of keeping yourself in good shape."
He says one of the most convincing studies about the benefits of physical activity was a 21-year investigation in the United States. Beginning in 1984, researchers sent an annual questionnaire to 538 members of a nationwide running club and 423 healthy, but not so active, California residents. All were aged 50.
Each year, they answered questions about running and exercise frequency, body mass index and disabilities. A total of 284 runners and 156 non-runners completed the 21-year follow-up. The runners were younger in terms of biological markers for age, leaner, less likely to smoke and - importantly - more likely to be alive.
The conclusion? Vigorous exercise at middle and older ages is associated with reduced disability in later life and a notable survival advantage. "If there was a drug that made this much difference to the quality of life, it would be the best thing ever invented," says Schofield.
In August, Lilac received a further $1.2 million grant to enable interviews after one and two years and to examine the impact of dementia.