Beauty innovations quickly gain momentum. Here are some of the latest.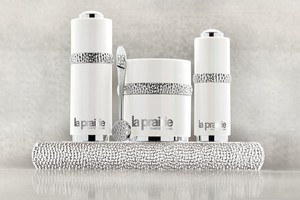 In the beauty world "It" products come thick and fast, but some show signs of being more than a passing fad.
To lead the way - and stick around - a product courts cult classic status. It's too early to anoint these contenders, but they're certainly flagbearers for key trends, new formulas and delivery mechanisms that have caught our eye in 2010.
Botanicals are big right now, picking up on a desire for more naturally based products and with a long track record in skincare. Current favourite additives are antioxidant rich berry extracts, clarifying plant oils and healing honey. Look out, too, for a resurgence of marine ingredients, already a staple of some of the world's most expensive skincare.
Serum use is extending to specific eye products, meaning that, as with your face, you are being exhorted to use both a moisturising cream and a treatment serum for separate tasks around the eye area. Targeting pigmentation, sun damage and uneven tone is the job of a new generation of brightening products, some as multi-tasking moisturisers and serums, some as standalone products.
Easy and innovative application methods are another trend, with roll-on and brush-on formulas being introduced across the price spectrum. So are light-reflecting foundation formulas and skin-smoothing primers and fillers.
Cosmetic colour is a craze gaining momentum. High impact matte lipsticks are starting to make their mark and will carry through until winter, with dense high-shine glosses a summer season staple. Mineral makeup mania has peaked, but it offers ease and colour choice ideal for now.
The biggest change in beauty care in recent years is the desire for quick-fix solutions. Blame this on reality television's instant makeovers, celebrity obsession, the quest for eternal youth, or all-pervasive consumerism. Despite the recession, purveyors of appearance medicine, permanent hair straightening, spray tans and the like are more than hanging in there, albeit with some sharp price competition. Want longer lashes? Extend them. Want smoother skin? Iron out those wrinkles. Want whiter teeth? Laser or bleach them.
Many women see such treatments as a newfound necessity. This trend isn't likely to disappear, but there's a move for "enhancements" to look more natural as they become more mainstream.
Here's a bit more about a few of these beauty trends:
Lash lengtheners
Six months ago if you wanted access to brush-on lash-growth stimulators, a trip to an appearance medicine clinic for a doctor's prescription was your best bet; now these products, with differing formulas, can be bought over the counter.
They are applied nightly like liquid eyeliner, but some come with a caution that they may darken skin along the lash line.
Every second mascara now promises to enhance lashes, with cunning brushes and thickening formulas often supplemented with peptides. Revlon's new Grow Luscious mascara is an example. The aim is to extend the short few months' lifecycle of lashes, giving a thicker fringe of stronger, faster-growing lashes.
For instant results you can apply extensions or wear false lashes, but do be careful you don't lose precious lashes of your own by rubbing or rough removal.
I haven't been tempted to use the lash-growth stimulators, but several other beauty writers tell me they have had good results over several months, mostly from the pioneering product Latisse. Newer to market is RevitaLash, which like Latisse, includes a prostaglandin stimulator and has been used on patients who have lost their lashes after chemotherapy. LiLash, which has won celebrity endorsements, is mostly found in beauty salons and uses peptide technology. Undercutting these options, is the just-launched CPRx and several other peptide-reliant products in pharmacies.
Latisse was developed as a drug treatment spin-off when it was noticed that glaucoma patients' lashes were growing thicker and longer. It alone comes with American FDA approval, but having met the higher standards required of a product marketed as more than a cosmetic it also carries a warning of eye discolouration and the requirement for a doctor's prescription.
* Don't be tempted to shop online overseas for bargain versions of these sorts of products, or the likes of hair straightening kits. The risks they may contain potentially damaging chemicals are too high.
Lash-lengthening examples:
CPRx Lash Prescription $89
Comes in a fine-tip brush pen, to apply to the upper and lower lash line twice daily, avoiding the eye area. Claims its peptides will lengthen lashes up to 46 per cent in 14 days, and more over time. (Exclusive to Farmers stores initially.)
Revlon Grow Luscious by Fabulash Mascara & Lash Enhancer $27.50
One of the new breed of mascaras that fortifies as well as coats lashes. The giant brush gives good coverage and there's also a waterproof version.
Eye poppers
Best avoid squinting by wearing sunglasses. The prices of these new eye serums and creams are eye-wateringly expensive, especially if totted up with their companion product. The former treats and corrects, the latter moisturises, though a combo sure would be a cost-saver.
Use eye products sparingly and gently and don't overload the delicate eye area with rich products, or puffiness can result. If your skin needs only a soothing gel, go with it. (Evolu has come up with some good new natural options).
Shiseido Benefiance NutriPerfect Eye Serum $103
For day and night use, this serum for mature skin is designed to deal with the hormonal changes of ageing, such as loss of firmness. Contains an oxidation-fighting peptide found in muscle tissue to boost defence against free radical damage. Nice, light texture.
Prevage Eye Advanced Anti-aging Serum $184
This eye serum has been added to Elizabeth Arden's Prevage range and the same-priced moisturising eye cream now comes with a shot of SPF15. Both contain hero antioxidant ingredient Idebenone. The duo act on lines, sun damage, puffiness and dark circles.
La Prairie White Caviar Illuminating Eye Cream $395
You better believe this cream lightens and firms at the price, and luckily fragile under-eye skin does look better. Especially good at dealing with under-eye darkness caused by pigmentation and poor circulation. Said to deter brown spots from forming. Farmed caviar extracts high in Omega 3 fatty acids also yield marine DNA for the illuminating system.
La Mer The Eye Balm Intense $370
A brew of marine extracts is at the heart of La Mer products, and this new balm uses it and a "de-puff ferment" of deep sea red algae to comfort and cool skin with a hydrating boost to smooth the eye area. Apply with a silver-tipped spoon and get the best effects with daily acupressure massage.
Murad Intensive Wrinkle Reducer for Eyes $166
The Asian durian is Murad's new superfruit - but don't worry, its trademark stink is absent, instead it has been combined with glycolic acid to provide hydration, antioxidant protection and anti-inflammatory benefits in this cream gel for daily use.
(From Caci clinics or see murad.co.nz)
On a wave
Marine skincare has a long history, especially in Europe where algal extracts are central to well-regarded ranges such as Thalgo.
Super-premium product Natura Bisse, a Spanish newcomer to our shores, uses marine extracts, as does La Mer with its miracle broth and La Prairie with its White Caviar range (see eye section above). So too, rather more affordably, does a new New Zealand company.
Hardy coastal plants such as sea buckthorn are also attracting interest from pharmaceutical manufacturers for their resilience and ability to retain moisture. Weleda is one of several companies using the citrusy sea buckthorn oil, in its creams.
Natura Bisse Diamond Drops DNA Shield Serum $840
Despite the price, there's no crushed diamonds in this serum, the word is there to denote the pinnacle of luxury that this Spanish range represents. Lavender essential oil offers calming properties if your budget isn't as big as that of Beyonce, who apparently enjoys regular Natura Bisse facials. The drops contain marine and botanical extracts and do feel velvety smooth. Unusually, the serum is applied on top of moisturiser to form a protective layer. (Exclusive to Chuan Spa, Langham Hotel, Auckland. chuanspa.co.nz)
Obiqo Protective Day Cream SPF15 $55
Nutrient rich sea kelp from New Zealand is part of the marine extract mix used in this smart-looking, small skincare range from a Wellington company which hopes to expand from online to retail sales next year. Wild sea (side) lavender is also included. The toning mist is a lovely pairing with this day cream which works well under makeup. (Online at obiqoskincare.com)
Estee Lauder Re-Nutriv Ultimate Age Correcting Creme $450
This relaunched top-of-the-range cream is Estee Lauder's superstar, helping to repair, recharge and restore skin, with phormidium persicinium, the so-called "rock of life" algae. This has thrived for more than three billion years and is now sustainably cultivated. It is added to support the mitochondrial repair process, with Lauder saying Re-Nutriv targets these energy power plants of our cells with what it calls "epigenetics" research into how the environment changes how DNA is read. Black tourmaline is added for its energetic properties and colloidal gold and South Sea pearls add visible lustre.
As with the Natura Bisse there's a matching eye product.
Stockists: Brand counters or as stated above.