Add interest to your outdoors with a sculpture of your own creation - a bird bath, perhaps, or something purely ornamental. Justin Newcombe shows us how it's done.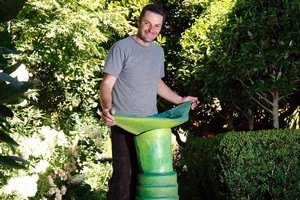 Your garden is your opportunity to express yourself freely, in a way you wouldn't ordinarily do inside your house. Fruity fountains, mad-looking planters, strange and wonderful sculpture can all be part of the garden adventure. Solid elements like planters and bird baths give grounding and add highlights to the garden.
A material called ferrous concrete allows anyone to produce something sculptural and unique. The basic idea is to make a shape out of wire mesh and plaster around it. The finished product is surprisingly light (for concrete) but strong. I built the stand for my bird bath in a day and managed to get a nice finish with the first coat of plaster. The bath was more problematic because unlike for the stand, you need to get a good finish on both sides. I ended up re-plastering the bath with a second thin layer of plaster.
Another reason I found the stand easier to build was that I used two layers of mesh to form the wire frame. This meant the plaster had more to grip on and didn't sag as much.
When you're plastering remember you won't get your final finish straight away so don't play around with it to much. You initially just want to get plaster on the wire frame. As the plaster starts to set it will become easier to finish. Once you get started you'll soon get a feel for it.
Step 1
Form your shape using wire mesh. I used a heavier gauge wire than ordinary chicken wire. This made my frame stronger and easier to shape. Because the wire comes in a roll, the easiest shapes to make are cylinders. For larger more complicated shapes additional reinforcing may be required.
Step 2
Tie the mesh together using wire and tuck any protruding wire ends back inside the frame or remove. These can be very annoying when you plaster.
Step 3
Mix your plaster to just wet. The stage before this is when the plaster is damp but crumbly. A few drops of water with a sponge is all that is required to get it just right. If it's too wet it becomes difficult to apply. I used ready-to-use dry mix plaster and mixed small amounts in a bucket with a drill and grout mixer. I added nylon fibers and acrylic bonder (which smells like PVA glue) to make the plaster more sticky.
Step 4
Place a pad of concrete on plastic sheeting about 15mm thick. Place your frame on top then apply 15mm of plaster over the top to sandwich the wire frame in place.
Step 5
Work the plaster up the frame using your hand or a trowel on the inside as support and a trowel on the outside to form your shape.
Step 6
As the plaster begins to set it becomes easier to smooth out and finish. A second layer may be required to get the final finish and add details.
Step 7
Once dry, you can paint and seal. I mixed my paint with the sealer before applying it.
DIY workshops at your local Bunnings Warehouse this weekend:
Saturday 10am: "Build it" kids DIY workshop; 11am: How to install a clothesline; 1pm: How to re-stain outdoor furniture.
Sunday 10am: "Build it" kids DIY workshop; 11am: How to make hanging baskets; 1pm: How to install a water-saving dripper system.