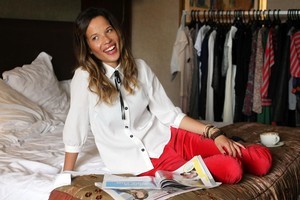 The winner of the second New Zealand's Next Top Model contest may have upset a few people in her hometown of Kawerau along the way, but Danielle Hayes is more than capable of looking after herself - she's an expert with a chainsaw.
The 19-year-old, who listed her greatest achievement as "not being pregnant and/or in jail" before the TV3 reality show started - breathed a sigh of relief on Friday night when the secret she's been keeping for weeks was publicly announced.
Talking to the Herald on Sunday in her room at Auckland's Langham Hotel yesterday - with just a bit of a celebratory hangover - Hayes admitted it has been a bumpy ride.
She felt a bit of backlash after making the pregnancy/jail comments about Kawerau.
"At first people in Kawerau didn't see the point I was making. My friends and family knew what I meant because they get me but some others got upset.
It was just girls I went to school with, you know, some who did fall pregnant at 16."
The win has given her a platform for people to get to know her - and there are a few surprises.
"I do painting and sculpting with a chainsaw. I just get a chainsaw and a piece of wood from the side of the road."
But for now her focus is modelling. Her competitor in the final, 16-year-old Michaela Steenkamp, said on camera that part of her wanted Danielle to fail in the Covergirl commercial shoot, and even Hayes thought she would.
"It was just poos," said Hayes.
"I was like, 'Are you kidding me? I bombed in the commercial' but I totally made up for it [in the final photoshoot]. I haven't been watching the show. [Friday] was the first time I watched it. I don't like it; I think I sound like a man and look like a cavewoman."
Hayes is refreshingly honest. She was bullied at school for being "ugly" and "different" but she knows her unusual looks gave her the edge in the competition.
She's also aware the other girls from the top three - Steenkamp and twin Elza Jenkins, 18 - are annoyed she entered the contest on a dare.
"At first I was just in there for the ride. But when I got to the top six or five I changed my views and thought 'Yup, I'm going for that top spot'.
However the competition hasn't been without trials. Hayes cried a couple of times on the show and let emotions get the better of her - one time punching a hole in the wall.
Dealing with judge Colin Mathura-Jeffree was hard because "he had his foot up my butt all the time. He pushed me hard."
Despite her success, Hayes said modelling was "just for the time being until I find myself".
She will head to Sydney and Los Angeles for meetings with Chic Model Management and NEXT Model Management as part of her prize package.
"But I'm gonna explode on the whole world - so be prepared."