Three hot new jewellery brands to look out for.
THINGS THAT GO BUMP IN THE NIGHT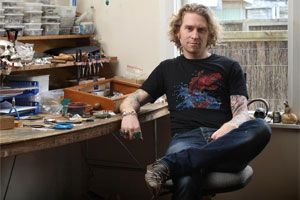 When Nick Klarwill launched Nick Von K last month, he did so in fittingly creepy fashion with an industrial type space, flickering candles, a soundtrack of people screaming and ghoulish face-painted performers. It set the tone for the new jewellery label, which embraces the dark and slightly sinister - think skulls, snakes, bullets, boats and animal heads, hand-carved from semi-precious stones, deer antler, mammoth tusk, cow bone, black hardwood, mother of pearl shell and greenstone.
Klarwill began creating jewellery in the late 90s, collaborating with Ricochet on seasonal accessory ranges (and he continues to do so). His new line is an extension of this experience, with a personal touch. "I've made jewellery with all the knowledge I've gained, but with the freedom of doing it exactly the way I want to." Doing things his way has paid off: his jewellery appeared on models at Salasai and won over American designer Nicole Miller, who took several pieces home with her.
My whole life I've made art for the pleasure of it but as this became my job, some of the enjoyment began to disappear. A few years ago I turned my hand to steel sculpture and had a few exhibitions; it was great to again make something for pure enjoyment.
So I took the concept into Nick Von K. I made jewellery for the fun of it, and for me, all the pieces I love and often wear.
My grandfather Baron Peter von Klarwill lived in a castle in Austria until the beginning of WWII when he escaped the Nazi invasion and fled to New Zealand. I don't remember him and so consequently my imagination has fashioned him into a bit of a legend. The aesthetic of the brand fits in well with this; a touch of old Europe, great architecture, fantastic art and metalwork around every corner, statues of animals in gardens and by entrances, and dark fairytales whispered by the fire.
The debut collection is split into three stories about life, death and imagination. "Jungle of Eden" is about life - the urge for survival within us, the power of wearing and embodying different animals, and an appreciation of nature's beauty. "See You There" is about death - but lifting that out of the typical fear of death into humour and the question of an afterlife. And "Rainy Daydreams" is a whimsical flight of fancy with designs such as Aladdin, a silver magic carpet with a carved stone sitting figure; and Felix Rex, a greenstone cat sitting on a highly detailed silver throne. I like to have things hidden or moving in my work, a snake with a moving golden tongue, an apple with a little worm that pops out, and an elephant's foot with a carved greenstone baby elephant hidden inside. It may sound like a mad array of ideas, but there's a definite aesthetic that runs throughout, and the ideas actually move from one to another much like a logical thought process. We are alive, we die, then what happens? Imagining answers to all these questions is the basis for many cultural aesthetics; this debut range is me playing with my own answers.
When I was 15, hanging around Queen St, my friends and I would buy cheap jewellery from the street stalls. We were into bands like Metallica and Guns N'Roses, and our heroes in these bands were all wearing rock'n' roll bling. It was a good excuse to wear jewellery at the time and the passion has just kept growing. Being able to make huge custom rings for myself is fantastic - I would end up spending a fortune on jewellery if I wasn't a jeweller!
* Nick Von K is available from Little Black Crown, One, Black Box Boutique, and Walker and Hall Queen St, St Lukes and Botany.
A NEW YORK STORY
Graduate, move to New York, launch an accessories line, have it featured on US Vogue's website: this is the story of Michelle Ng, who made the move to NYC from Auckland last year where she launched Young&ng (a combination of her parents' last names). The label incorporates elegant headpieces and jewellery, with a debut collection that draws inspiration from the stained glass windows in Europe - the glistening of the glass panels and the metal lines between. That translates into a hair comb embellished with gunmetal beading, studs and glass stones, an antique gold cuff with double layer gunmetal beading, a sculptural antique gold hair comb that sits like a crown - all pieces fit for Ng's ideal girl, described as strong, ethereal and walking with purpose. "You can sense her philosophical intelligence. A working girl, who works with passion and looks for art in everything." Ng's conversation is riddled with art school speak, so it's unsurprising to find that she studied fine arts at Elam - a background that has informed her new venture of making art a business.
Why did you launch Young&ng?
If someone had said a year ago I would have my own company, I would have said "no way". Starting young and being in this industry, I had seen the fear, the struggle and the strength of what these passionate people go through. I was fearful and didn't think I had that strength. But after a few more years of being in it and growing up, I realised I was just as passionate, and working for another company did not satisfy this hunger.
I wanted to see how much I could challenge myself with this passion and see how far I could go. When I realised I had the passion and strength, I realised I had the base foundation of a mindset to build a business and everything else will follow, hopefully!
What materials do you like to work with?
I love working with metal, whether it is in the form of a bead or in a sheet. I find it really intriguing that you can create different stories for the same material. You can sculpture heavy metal to appear light, and sculpture light metal to appear heavy. The illusion you can create is unexpected and mesmerising. I also love working with precious stones and glass, but for me it's more about hunting for that perfect, dead-on colour. Creating a piece and finding that exact colour is like scratching a hard-to-reach itch.
You studied at art school - but where did your interest in jewellery and headpieces come from?
I genuinely loved it at Elam - they taught you concept, showed you passion. My interest in jewellery and headpieces comes from a lack of a market. I couldn't find anything that I was looking for, so instead of complaining, I decided to give myself what I was looking for; to apply my own art into an open market of high end artistic jewellery and headpieces, and make my art a business.
How has that fine arts background influenced your design?
It educated my mind to continuously be conceptually creative. I went in with an empty mind and came out with an open mind. Being educated in fine arts makes me see jewellery and headpieces in a different perspective: I see everything with reason and apply it to my work. During my time at University, I was doing photography and design/sculpture; producing garments from fabric, glass and metal to produce garments. It was hard presenting my work as I wasn't exactly working along the same lines as the other students - paintings, video, canvas work - but I had amazing tutors who encouraged me to stay within my field. From them, I learned that if you can apply art to anything and everything, you are a true artist.
* Young&ng is available from youngandng.com.
SHE'S SO FINE
Rachel Sloane is a romantic and a dreamer - much like the whimsical muse for her new jewellery brand, Naveya and Sloane. There are no chunky statement rings here: think fine sterling silver and gold jewellery with diamonds and gemstones, made to be treasured and passed down through the generations.
"I wanted to create something light and dreamy; something beautiful and romantic - pieces that someone can buy for a special occasion, as well as being able to treat yourself. Something that was a bit more timeless and classic as opposed to the fashion brand jewellery. It's a little more classic and subtle, with a bit of character," explains Sloane. "I like the jewellery to feel good on. I didn't want to do anything too massive; the rings are easy to wear and flow with the body." Classic and very covetable: the Tulipa ring is handcarved with sweet flower detailing, the Miss Me ring is a simple band with "secret" side stone settings, while the Stained Glass Secrets ring features intricate cut out detail with stones. Pendants and earrings also appear in the debut collection.
Sloane is largely inspired by antique jewellery, her brand combining an historical feel with modernity - future antiques if you will. Each piece of jewellery comes in a crystal glass box, inspired by Sloane's grandmother's jewellery boxes; a parachute pendant subtly embellished with gemstones was inspired by the fob chain wax seals, while other "stories" within the collection look to stained glass windows, emotion and tulip vines. The parachute is a recurring motif throughout the range, as well as Sloane's branding - a reference to the romance behind the jewellery.
Sloane is no stranger to the world of design, having previously worked as the womenswear designer at Huffer and a pattern maker on Shortland Street. It was here that the seeds of the Naveya and Sloane label were planted, with Sloane drawing sketches of jewellery designs on her pattern paper - and daydreaming about what would become the brand's muse. Sloane's strong fashion background has clearly been an influence - every detail of the brand is carefully thought-out, from design to the beautiful cabinet that the jewellery is showcased in (one of which currently sits proudly in Sloane's living room), to the character/muse. Sloane has even created a backstory for the fictitious Naveya character, a romantic who "loves lolling about in the sunshine and lives in a beautiful house with beautiful gardens. She's out in the sun going for a walk, a bit like Elizabeth Bennett in Pride and Prejudice, and her love flies a plane over and drops a parachute down to her - kind of like that 1940s wartime feel."
Yes, Sloane is a romantic, and she sees those who wear her jewellery as people who are just as dreamy. "I think it's any woman who delights in beautiful things."
* Naveya & Sloane is available from naveyasloane.com