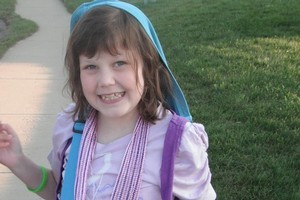 Matisse Reid can't eat, but she loves to cook - and her family say she will be devastated when she finds out celebrity chef Gordon Ramsay has pulled out of charity dinners in her honour.
The 9-year-old suffers from a rare condition that requires her to be fed from an intravenous drip.
She and her Napier family have been forced to relocate to the United States waiting for a stomach, pancreas, small and large bowel transplant.
Ramsay - the foul-mouthed star of TV shows such as Hell's Kitchen - was due to be the star guest at two dinners in Auckland and Wellington to raise funds to help keep Matisse's family living in the US.
The family must be within six hours of the children's hospital in Pittsburgh where Matisse will hopefully get her life-saving transplants.
Duco Events had sold 2000 seats to the dinners and hoped to raise $100,000. Through his lawyers, Ramsay said he wouldn't be able to come to New Zealand due to matters beyond his control.
It was reported yesterday that he had parted company with Chris Hutcheson, his father-in-law and, as chief executive of his restaurant group, a key executive in his business empire.
Speaking to the Weekend Herald from Pittsburgh yesterday, Matisse's mother, Jodee Reid, said she hadn't told her daughter of Ramsay's last-minute no-show.
"This is a bad situation and it's nice to know we weren't forgotten about [by the dinner organisers].
"I have this child who can't eat who desperately wants to, who loves to cook and she watches all those cooking shows.
"I feel like, if nothing else, he let a lot of people down in New Zealand, he let us down, he let [event organiser] David Higgins down.
"But this little girl who has this life-threatening disorder, he's let her down more than anyone else."
To Ramsay, Mrs Reid said: "Come on, you made a commitment. Are you that big a person you can back down on a commitment?"
Mrs Reid said Matisse had known the celebrity chef was due to help her.
"I told her Gordon Ramsay was doing a charity event for her because despite the fact she can't digest food and can't eat, she loves to cook.
"She knows fully well who he is, but I haven't told her [of the cancellation] because I pick and choose the bad news and she hasn't asked any more about it. We try to keep the disappointment to a minimum."
Although saddened by this week's events, the Reid family are used to setbacks.
"We're disappointed, obviously. But we're getting used to disappointment. We've been waiting for organs for nearly four years and Matisse has had eight false-alarm calls.
"We've got to the point now that until it actually happens, we don't believe it, and that's in terms of everything in our lives. So it is disappointing, but we hadn't hoped too high," Mrs Reid said.
Because Matisse had to stay close to the hospital in case organs became available, the family couldn't have returned to NZ for the dinners.
Being away from home had been tough for the family, who include Matisse's father, Wayne, and siblings Rachel, 19, Kalani, 12, and Fraanz, 6.
"It's been really challenging and very different. You wouldn't expect it to be but it but people have been brilliant and friendly. We're lucky to live in a great community."
Gordon Ramsay's London agent, Mark Cowne, said he was "mortified" by the turn of events.
David Higgins, of Duco Events, has the support of property investor Sir Bob Jones, who donated auction items for the dinners.
Mr Higgins said Ramsay's lawyers had told Duco the chef wasn't aware it was a charity event, but the company disputed this.
Donations can be made to Matisse's fund, Chance2Eat, at the National Bank, account number 06-0701-0299009-00.