Forget takeaways - now you can make your own authentic pizza with recipes from an Italian expert.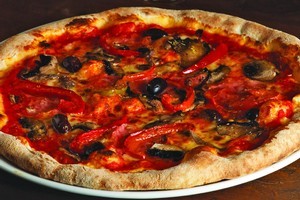 Even though pizza was first made by the Romans, it was the Neapolitan sailors who perfected it in later years. Ben Riccio was born just outside Naples and in 1995 opened Napoli in Bocca, serving traditional Neapolitan pizza to enthusiastic restaurant-goers. Now you can recreate his authentic taste at home with his book, Pizza From Naples.
Create classics like marinara, capricciosa and panzerotti, then move on to rucola and prosciutto crudo, tropicale and sweet chocolate pizza. Riccio includes the basics of pizza making, how to make dough and tomato sauce, and chef's tips for perfect pizza.
Pizza dough
This basic pizza dough makes enough for six 30cm pizzas. You can roll out the pizza bases, then wrap them in plastic and freeze for up to two months.
30g fresh yeast
2 teaspoons salt
600ml water
1kg flour
1 Into a bowl place fresh yeast and salt in water and mix thoroughly to ensure the yeast is fully disolved.
2 Place flour in a bowl, make a hole in the middle and pour in the mixture of water, salt and yeast. Mix all together and knead to form smooth dough (10 minutes).
3 When smooth, cover with tea towel and leave to rest for at least 1 hour. The dough should rise during resting time. Make sure it has risen to about double its size before cutting or breaking it into pieces.
4 Divide into 6 portions, and roll into 6 balls.
5 Leave to rise again for 1 hour. The dough can now be stretched with your hands or a rolling pin.
Carnevale pizza
Makes one 30cm pizza
1 portion of pizza dough
1 teaspoon olive oil
150g crushed or peeled tomatoes, fresh or canned
100g mozzarella shredded
1 slice of shoulder ham cut into quarters
100g mushrooms, sliced
2 tablespoons olive oil, extra, for frying
70g green or red capsicum, sliced
6 whole black olives
2 anchovy fillets in oil, cut into pieces
1 Preheat oven to highest temperature for 1 hour
2 Oil a 30cm pizza tray. Using your fingers, spread the dough evenly over the tray.
3 Using a spoon, spread tomato on the dough leaving a 1cm edge.
4 Sprinkle over mozzarella, add ham and mushrooms.
5 Heat olive oil in pan and cook capsicums for 2 min, place on pizza. Add black olives, anchovies.
6 Cook pizza for 15-20 minutes.
Be in to win this cook book
Pizza From Naples, by Ben Riccio, New Holland Publishing, $45. Available from Cook the Books, 81 Ponsonby Rd, Ponsonby, ph (09) 360 6513, cookthebooks.co.nz
They have one copy to give away. To enter the draw, email your name and address to books@cookthebooks.co.nz by Tuesday, October 26.