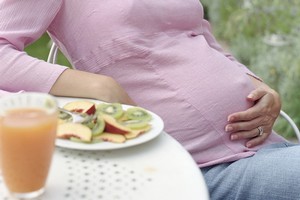 I've been on the wagon for three months now. I'm lending some resolute and sober moral support to my wife who's pregnant with our second baby.
Well, I can't lie, I'm on the wagon during the week at least because come Friday night, after a long, hard week at work and running my little girl around, I tell ya, those two beers and a couple of glasses of wine (no, that's not binge drinking) sure go down well.
Oh, and if there is a gig or social occasion to go to during the week, then a few beers are okay. And I can get away with a cheeky vino if it's been a crazy day on the front line.
That said, walking proudly into the lounge last Tuesday with a glass of wine in my hand did inspire an ever-so-subtle disapproving sigh from my wife.
But other than those important exceptions, I've been a staunch pillar of sobriety. Who says we guys don't make any sacrifices during pregnancy?
I've been compensating with green tea (pots of the stuff), water (boring but essential), and, um, the occasional ice-cream or Bounty bar (yum).
I need to keep up my energy levels because I've been busy looking after my wife (more on that epic topic next week) and my little Mia, running the house, and - of course - work doesn't go away either now does it?
I've found being a sober partner is not just about being supportive. Listen up lads, it's good for us too.
Not to get all preachy and righteous about it but I feel better and I can almost guarantee my liver is a little livelier these days.
And also, it's worth considering the brownie points you can notch up for when you're finally let loose to wet the new baby's head. Don't go on about how loyal and supportive you're being though, because it's not all about you - remember.
On a more practical level for us, it's good practise for next year when we'll be tightening the purse strings, because come March we'll be a single-income family with another mouth to feed.
Actually, here's an idea. I wonder how requesting a home brew kit for Christmas would go down?