Gill South talks to four women about their love of beautiful footwear, and gains tips on how to indulge.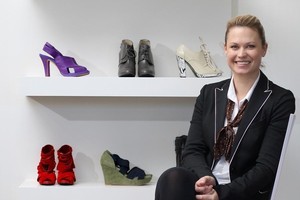 Two little five-year-olds are walking home together from school. Cute as buttons, they wear navy pinafores, striped tights and T-bar shoes. One says to the other: "I like your shoes." They are navy patent leather with pink swirls on the toe.
And so it begins. The love/love relationship between women and their shoes which no man can come between. Businesswoman Miriam Rae, a self-confessed shoe fanatic, remembers someone from the congregation calling out in the middle of the wedding vows, "Does he know about the shoes?" He did, fortunately.
Auckland shoe designer Kathryn Wilson, a woman who can describe in detail her first good pair of shoes at the age of five, has delved deep into the relationship women have with their shoes.
Wilson, who staged one of the most applauded shows at Fashion Week last week, has loyal friends and customers who will buy up to eight pairs of shoes from her every season. At around $250-$500 a pop, that's quite an investment.
"My girlfriends have to have it, they'd rather not eat for a week," says Wilson.
She understands. "Shoes can change your whole wardrobe. A red pair of heels will make you look completely different. You can express yourself with shoes," she adds. This can at times, not always be a good thing. Wilson has a friend who will not be without her high heels. She even arrived at an African safari in her usual heels - to the consternation of the game rangers.
The fact that Mihi Blake has had three styles of shoes named after her by her friend Wilson, is indicative of just how deeply into shoes she is. Wilson is now having to resort to middle names, says Blake sheepishly.
"I think that over the last few years, my shoe obsession has developed into something bordering on the unhealthy! But everyone has to have some kind of obsession," she maintains.
The advertising consultant at MediaWorks Radio will buy five or six pairs of shoes from Wilson per season. In that odd form of psychology understood only by women, she will buy her partner Phil a couple of pairs too. Blake also finds temptation at Mei Mei and Jaimie Boutique in Ponsonby Rd.
Where does she keep this constant new supply? And, by the way, she will not be drawn on exactly how many pairs she has. "The ones that I thrash go to the back of the wardrobe - I am quite hard on my shoes," she says. Some get taken out on a few "raucous nights out." Blake says she's easier on her shoes now she has reached 30.
She likes to keep up on shoe trends. She will go to Wilson with ideas she has seen on websites - she likes TopShop.com and Shopbop.com - she consults with magazines, blogs and her girlfriends. Blake, who is not shy, often stops people on the street to admire their shoes and find out where they got them from. "People find it flattering if you like their style," she says.
She has a weakness for heels, serious heels. At the moment they are up to six-inch heels, so at 5 ft 9 she is towering over her partner. She also has a penchant for purple shoes, which Wilson is happy to supply.
Women who love shoes are not afraid of a bit of colour. When she was six, Neisha Henry, brand manager for Smashbox Cosmetics in New Zealand, remembers seeing some red shoes like those she had seen in the Wizard of Oz. She said to her father: "That's all I want." These days Henry admits to around 150 pairs of shoes. Her understanding partner has just been ousted from their shared wardrobe because there was simply not enough room for her shoes and his clothes.
"He likes that I have a passion; he appreciates it," says Henry. When they went to see Sex In the City 2, he said to her fondly: "You are like Carrie with her shoes."
The young woman, in her mid-20s, doesn't have limitless amounts of money, she has a mortgage and she will not go into debt to buy her shoes. Her most expensive pair, bought in Thailand, cost just under $1000. But she makes some sacrifices to feed her "habit" - she and her partner don't eat out as much as their friends, preferring to cook at home. "I'd rather spend a couple of hundred dollars on shoes than on a meal," she says.
While Newmarket and Ponsonby, High St and Chancery Lane, are the main Auckland shopping spots for "well-heeled" shoe connoisseurs, Chloe Thompson wears a size 9 to 10 shoe, and is on a strict budget so she has found Trade Me a life saver.
Her favourite pair of shoes are a hand-crafted pair of Standard Issue shoes which cost her $91.50. "They are so beautifully made they will last forever," she says.
Boots are a safer purchase than shoes, she says, because they are so loose fitting. She has 10 pairs. Thompson admits she has a large box of shoes and boots which did not fit and which she will re-sell on Trade Me at some point. But who doesn't have shoes they never wear? And as with all things we love, they are still so hard to part with.
The highs and the lows of shoe prices
How come a pair of boots can cost say $400, and a similar looking pair from a chain store can be as little as $70?
There are many aspects of the design, development, manufacturing and distribution systems that will affect the consumer price of the finished product. According to Kathryn Wilson, the difference in pricing comes down to the materials and components used.
The quality in leather hides differs enormously, for example. You can select from various grades and types of skins, and then there are the polyurethane uppers or linings (vinyl made to look like leather) which are cheap but have a much shorter lifespan.
If the shoe is being made in a small number this will affect price - the development costs will be much higher.
If the shoes are made by hand rather than in a machine-operated factory, the costs will once again be markedly different from a mass-produced product.
Life's Top 10 shoe shops
* Number 1: Shoes from $19.99 to $69.99, boots from $19.99 to $89.99.
* Kumfs: Shoes up to $250, boots up to $400.
* Overland: Heels up to $199, boots up to $359.
* Mi Piaci: Heeled sandals from $220, boots up to $550.
* Minnie Cooper: Shoes from $279, boots around $499. 78 Ponsonby Rd.
* Kathryn Wilson: Shoes from $229 to $499, boots from $599, stockists include, Caroline Sills, Made, Juliette Hogan, Ruby, Heavenly Soles.
* Heavenly Soles: Shoes from $169 -$400, boots from $300 to $600.
* Scarpa: Shoes from $190 if sale on to $530, boots from $390 to $1100.
* Mei Mei: Shoes from $350 to $1005, boots from $650 to $1700, 282 Ponsonby Road, Ponsonby, ph (09) 376 0201
* Runway: Shoes from $400 to $1200, boots from $700 to $2000. Nuffield St, Newmarket.