Tea and cake are an especially lovely way to while away a rainy afternoon.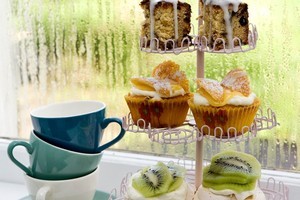 Even though the promise of spring is in the air and the odd freesia has popped through the damp earth, it seems to have been raining forever.
What better way to spend a wet and dreary afternoon than to settle down with a pot of hot tea and some cake? Invite over a friend or two or grab a couple of the latest glossies to leaf through, so spring fashions can at least be imagined even if it is too wet for sandals and pretty dresses just yet.
The first recipe is for a deliciously old-fashioned tasting sultana cake that I pestered my mother to make, using her mother's recipe. Its charm lies in the cake itself not being too sweet but balanced nicely with a drizzle of lemon icing. The sultanas are simmered in orange juice and go beautifully with the bergamot flavours in a cup of Earl Grey. This cake is also a goodie to have in the cake tin because it will last well for three or four days, depending on one's appetite, of course.
I must admit pavlova has never been one of my faves but the idea of an individual one whets the appetite. While meringues look gorgeous, the crisp outer and squidgy centre of a pavlova appeal to me more, especially when topped with cream, gloriously green kiwifruit and a trickle of vanilla bean syrup.
The third recipe is for butterfly cakes - they look gorgeous, seem very ladylike but most importantly taste divine, especially with grapefruit curd.
The curd can be made with lemons, but the grapefruit make the most of a fruit that at the moment often seem to be lying under trees going to waste.
So, polish the silver teapot or grab the Crown Lynn and make an afternoon of it, before long the rain will be a distant memory.
Chef's tip
Always soften butter to make the creaming process easier. Margarine can be substituted but the flavour will not be as delicious.