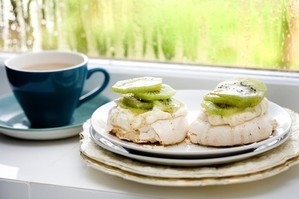 Makes 6
2 egg whites
1/2 cup caster sugar
1 tsp vinegar
1/2 tsp vanilla extract
1/2 Tbs cornflour
Vanilla syrup
1 cup water
1/2 cup caster sugar
1 vanilla bean
Whipped cream to serve
Sliced kiwifruit to serve
1 Preheat oven to 180C. Put the egg whites into a bowl and begin beating with electric beater until peaks form. Beat in the sugar a little at a time until thick, stiff and glossy. Mix together the vinegar, vanilla and cornflour. Fold through the meringue.
2 Cover a baking tray with baking paper and spoon the mixture into circles approximately 5cm high. Flatten the tops.
3 Place in oven then turn the temperature to 100C. Bake for 1 hour. Turn the oven off, leave the pavlovas in the oven with the door ajar until cold.
4 To make the vanilla syrup; put the water and sugar into a saucepan. Scrape the seeds from the split vanilla bean into the saucepan then simmer until the sugar has dissolved, let cool before using.
5 Top the pavlovas with a little whipped cream and slices of kiwifruit. Drizzle with syrup.