Standing on snakes and having trees fall on him are all in a day's work for the archaeologist who's been called Auckland's Indiana Jones. Professor Simon Holdaway talks to Dionne Christian about digging up mankind's past and unearthing an even more ancient Egypt than that of the pharaohs.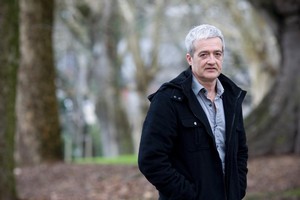 To the untrained eye, the photograph from Fayum in Egypt looks like a whole lot of nothing: a bland and largely featureless desert meets a blue sky in a shimmering heat haze on the horizon.
Looking at the picture makes you feel sweaty, thirsty - and keen to drive down the whippet-thin track snaking through the sand to the pyramids, the Sphinx and Cairo, to something like civilisation.
Africa's largest city of 17.8 million people and counting never rests easily. The incessant tooting of car horns through the small hours of the humid night put paid to that. When dawn breaks, muezzins walk minaret steps and call the Muslim faithful to prayer - or loud speakers carry the message.
Then the day proper begins. Spitting camels jostle for space on roads with a multitude of cars, buses and rickety vans. Shopkeepers open stores in age-old bazaars where you can barter for hookah pipes and replicas of King Tut's gold mask.Tea-sellers and tourist groups appear.
Now, sprawling round the pyramids of Giza and into the Sahara desert, you are unlikely to rest long or peacefully in Cairo but at least you can get a shower, a cold drink and a decent meal.
And enveloped by humanity, you're protected from the barren Sahara where it seems as if there's nothing but relentless heat and sand for miles and miles and miles.
But that's not what archaeologist Professor Simon Holdaway thought when he arrived in the desolate Fayum, just 80kms south-west of Cairo, following a two-day trip from Auckland back in 2007.
After a sleepless night in Egypt's capital, he couldn't wait to exit the seething city.
Getting out of his rented Toyota Landcruiser at Fayum, his heart skipped a proverbial beat.
Instead of the desolate desert monotony many might see, unfolding in front of him was a snapshot of prehistoric Egyptian life: pottery shards, stone tools, hearthstones and animal bones blanketed the sand.
For someone who has dedicated many of his 50 years to digging up the past and who is internationally recognised as an expert in Palaeolithic - old Stone Age - archaeology and stone tools, it was like finding the Holy Grail.
Often referred to as the University of Auckland's answer to film hero Indiana Jones, Holdaway couldn't wait to dig in. Trouble was, he was there as a visitor, albeit one who had had to apply for permission eight months earlier and register his arrival with police.
He was in the right place at the right time. The team behind the Fayum Project, the University of California, Los Angeles and The Netherlands' Rijksuniversiteit Groningen, wanted an archaeologist with his skills to help reveal more about how prehistoric Egyptians - those before the Pharaohs - switched from hunting and gathering to farming.
Thanks to 12 years spent working on and off in Australian deserts, Holdaway could apply lessons learnt in the so-called New World to the Old. Along with PhD student Rebecca Phillipps, he may have helped solve an archaeological and historical mystery: why did the Egyptians - a people who would go on to dominate the region - get off to such a slow start, growing wheat and barley much later than residents in the Levant, the fertile crescent of the eastern Mediterranean?
From matching evidence of occupation patterns with knowledge about climate variation, they concluded that in wetter years, Neolithic - new Stone Age - Egyptians grew wheat crops but didn't know how to cultivate them in drier periods. They probably used natural rainfall at the base of wadis, ravines that are dry except during the rainy season.
As they became more adept at this, they began to settle down and quickly adapted to cultivating and using wheat crops. Within 1000 years, pre-dynastic Egypt emerged.
"This is a relatively short space of time for such dramatic changes in social structure to occur. The question then becomes why did that happen?" Holdaway says.
It will be something for him and his team to consider when they return this year having spent time in 2008 and last year in Egypt. But first, he will visit Weipa, Northern Queensland, to talk with mining heavy-weight Rio Tinto Alcan about a cultural heritage project it plans.
He might even fit in a flying visit to New South Wales, where he co-directs the Western New South Wales Archaeological Project which studies the ways Aboriginal peoples adapted to unpredictable weather.
Just before the plane-hopping, Holdaway gave his inaugural lecture as a fully-fledged professor. Such is his experience and international standing, he's recently become Professor Dr Simon Holdaway.
Which isn't bad for a kid born in Lower Hutt and raised in Dunedin who decided, at age 12, to be an archaeologist after becoming "totally captivated" by a homework assignment on cavemen.
"There were no women mentioned back then - it was all very gendered," he says.
Now head of the University of Auckland's anthropology department, his inaugural lecture looked at whether archaeologists need time machines. You'd think he would jump at the chance to time travel, but he wouldn't.
Because he works mainly in areas covering thousands of square kilometres, Holdaway says chances are he would arrive back to find the people who were around then were somewhere else.
"And even if you did find anyone, they probably wouldn't be doing fantastically exciting things. They'd be sitting there eating breakfast or thinking about what to have for dinner and that's not inherently interesting to watch.
"As an archaeologist, I want to find an accumulation of objects and then I can start to look for a pattern to find out what has happened to take us to where we are now. Archaeology isn't about one thing; it's about a group of things, their context and change over time."
Through looking for patterns of change over time, Holdaway has provided new insights into our forebears.
Six years ago in Taranaki, his research group excavated a 19th century Maori village. Working on contract for Transit NZ, the team found 60,000 objects in a 3000sq m excavation site at Oropuriri. Remains included a "whacking great" wharenui (meeting house) - one of the first of its kind.
"Meeting houses of that size didn't exist in pre-European times, although there were precursors to them. Linking the development of that form of meeting house was pretty exciting because we could then talk about why it came about and consider changes in Maori settlement patterns."
In the Australian desert, he and PhD student Matt Douglass haven't had to dig too hard. In dry environments stone tools and bones can be covered by sand, lost and found again after being exposed through wind-driven erosion.
Long abandoned objects are strewn across the surface as an eerie reminder someone once was there.
After analysing such remains, Holdaway and his students know more about Aboriginal responses to climate change.
"High mobility is a reaction to climate change but we had no idea just how mobile they were. We now know people were using a site, moving on and then their descendents were returning sometimes centuries later. We could then match up the times that people were there with climate changes."
He's also helped develop some of the technology used by modern archaeologists to speed up the post-excavation analysis. In the 1980s, his American mentor Professor Harold Dibble introduced him to software and computer programmes which Dibble claimed would one day revolutionise archaeology.
"Back in the day, an archaeologist might have worked on one or two sites in his or her career and then spent decades cataloguing, recording and trying to analyse what they found," says Holdaway.
"Now we use software and computers to analyse tens of thousands of objects in a much shorter space of time. I am very grateful that Professor Harold Dibble introduced me to this type of technology and then insisted his students learnt not only to work with it but also to design and build it."
The technology may have changed but a fundamental question remains. Who cares about a lot of old rocks and bones? After all, it was thousands of years ago.
"Of course we should care," says Holdaway, emphatically. "It's part of the history of human occupation and it's about valuing that history. After all, it has contributed to what makes us who we are.
"Obviously, you can't map the solutions prehistoric peoples found directly onto the 21st century, but we might be able to gain useful insights from how folk back then dealt with change and use the past to inform the present. Besides, it's just inherently interesting."
He has perhaps gained certain pragmatism from studying past lives. One only has to look at his own life to see that. Remarkably he and his wife, Professor Ngaire Kerse, have stayed married for nearly 25 years, raised two daughters, Emma and Marycarol, and maintained parallel academic careers.
Holdaway investigates the past, Kerse's interest is the future. As a medical doctor, she wants to know more about maximising health for older people and is the lead researcher in a new study to learn how and why some New Zealanders live long lives.
They were promoted to the position of professors in their respective departments in the same week and have always shared childcare responsibilities evenly. Holdaway says his youngest daughter learnt to walk on a dig in the Australian outback.
"I didn't want to put work before my family and for them to think, 'Dad has got this really cool job but he's never here', so they were always included."
While he might be known as Auckland's own Indiana Jones, Holdaway will not take the risks the fictional character does. He won't travel to war-zones or countries on the brink of conflict. It probably explains why standing on snakes - but not being bitten thanks to protective footwear - and having a tree fall on him have been his most serious workplace accidents.
"I also take groups of students and I've got a duty of care toward them. I am not going to subject them to unnecessary danger.
"For many, going to places which are so culturally different to New Zealand is challenge enough - but that's partly what archaeology is about, learning to acknowledge and respect varying cultural norms.
"I think it's good for young people to learn that and something I always wanted for my own kids. I mean we live in Auckland and we have to get along with a huge range of people from all over the world."
Holdaway got his first taste of cultural difference when he left New Zealand in his early 20s to complete a PhD at the prestigious University of Pennsylvania.
The placement was a parting gift from the University of Otago, where he spent six years obtaining two degrees before his supervisor, the late Professor Peter Wilson, announced it was time to go.
"I'm not really sure if he thought, 'here's a bright young man with a promising future so we'll send him out into the world' or if he was annoyed because I'd led a student revolt about the fact I thought Otago wasn't teaching enough New Zealand archaeology and he wanted to see the back of me."
Post-graduate students at Pennsyl-vania had to arrange fieldwork outside of North America in non-English speaking countries. Holdaway chose Combe-Capelle in southern France, formerly home to Neanderthals.
"That was probably the most memorable dig because I was a student all the way from New Zealand, in my early 20s and working as a bona fide archaeologist learning about cave people. It was really, really hard work but it was a whole lot of fun, too."
There was romance, too - after all, it's always part of our pasts. Newly engaged to Ngaire, he persuaded a Parisian hotelier to let him have a top-floor room with wooden shutters that opened to reveal a view of the Eiffel Tower.
"We sat up in bed looking out across the lights of Paris and the Eiffel Tower, drinking cafe au lait and eating pain au chocolat. I thought, 'this is the life' and it has been, too."
Holdaway reckons he's got at least another 15 to 20 years of active archaeology.
Having worked all over New Zealand, in France, Australia and Egypt, he wants to explore the west coast of South America, a similar environment to the Australian and Sahara deserts.
Who knows what his investigations may reveal - after all, isn't there a small mystery about how the South American sweet potato made it to this part of the world?