With little storage space, an Auckland couple have used their possessions as decoration and to tell their story.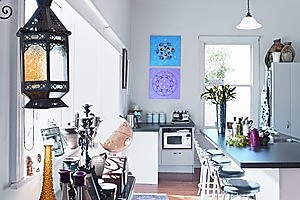 Most people bemoan the lack of storage in their homes, but Sarah and Rhamin Jacob have turned that negative into a positive. Their Grey Lynn villa is crammed with personal items that tell a story about them, their love of music and their travels.
"We have little storage, so all our books, records, memorabilia and photos are on display throughout our home," says Sarah. "But I don't mind, because I love decor that tells a story - who you are, where you've been and what you love."
Just walking down the hallway of their home makes you feel like you know the owners. One wall is plastered with pictures of friends and family while the other features 1970s concert posters. Carved wooden furniture and embroidered textiles hint at the time the couple spent in India.
Sarah, a voice artist, and Rhamin, an architectural designer, met overseas and when they returned to New Zealand they began hunting for a home in Grey Lynn. The home they bought had changed hands just three times and the previous owners had done a restrained renovation that included installing a new kitchen, painting the walls and panelling the bathroom walls.
The Jacobs weren't interested in doing any further work, but wanted to make the home their own. "When we moved back from abroad we had no furniture, but luckily my parents are hoarders," says Sarah. "We fossicked in their huge loft and went on a 'take first, think later' basis."
Just before the couple moved into their new home, Rhamin proposed to her, which meant they had a month to turn the house into a venue for an engagement party. Sarah began by decorating the hallway before the huge open-plan kitchen and living area.
Putting too much furniture in a hallway can produce a cramped and gloomy feel - but not in this home, with its wide, airy hall filled with light. "We effectively use the hallway as another room," says Sarah. Here, her antique writing desk is not far from 2-year-old son Hunter's nursery and next to the German-made 1912 Lipp piano, which belonged to her father's best friend.
"I have happy memories of huddling around the piano singing Beatles' tunes while my dad played guitar," says Sarah. "Today, I play piano and Rham's on guitar, but the songs haven't changed."
When it came to the open-plan living area, Sarah wanted a space that was "comfortable and full of talking points", such as the 1920s Cromwell radio found in a junk shop in Paparoa and Sarah's collection of 1970s macrame owls.
Most of the couple's artwork is from India, while some pieces were commissioned from an artist friend and the rest are vintage concert posters. Against a backdrop of white walls, wooden floorboards, high ceilings and period detailing, the overall effect is elegantly bohemian and homely.
Style Tips
Light touch: Using lighting fixtures such as antique lamps or designer pieces is a dual investment. It makes a beautiful statement by day and delivers cosy, ambient light by night.
Homegrown art: You can turn much-loved memorabilia into an interesting or dramatic artwork. Sarah took a collection of old concert tickets and made them into a striking collage.
Creative display: Use a mantel or shelf to show off heirlooms or memorabilia. Sarah has used decorative pieces to make a playful statement on her mantelpiece.
Leanne Moore is the editor of Your Home & Garden. See the latest issue for full story on this home and other ideas for your place.