As our cafe scene becomes increasingly sophisticated, the humble cuppa is having a surge of popularity, reports Bronwyn Sell.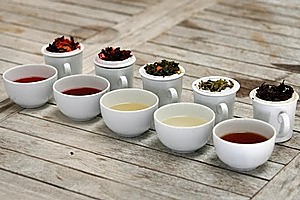 Tasting tea - really tasting tea - is a lot like tasting wine. You slurp it in, loudly straining it between your top teeth and lower lip, and swish it around your mouth, letting it roll over all your tastebuds before spitting it out.
It is, says tea fanatic Anna Salek between slurps, the best way (swish) to get at all the rich layers of flavour (gurgle) of a good quality tea (spit).
Grandmother would be horrified. And probably surprised. All that unladylike carry-on for something that comes with just three choices - black, white and sugared.
But once upon a time wine too came in three varieties - red, white or sparkling. And coffee was once served simply white or black. I remember taking my mother to a Mt Eden cafe in the early 1990s. When she ordered "a coffee" the waitress exhaled with impatience.
"What kind?"
"White. No sugar," said Mum.
"Noooo, I mean cappuccino, latte, flat white, long black, espresso or mochaccino ...?"
These days even Mum knows the difference between a flat white and a latte. For the last couple of decades cafe culture in New Zealand has been all about the coffee. But even as coffee began to leave the filter and take on new forms, tea remained something that came in a stained cup, made from a cheap teabag fished out of a dusty tin simply labelled "Tea". And it was a desultory afterthought on the ever-increasing growing blackboard of coffee offerings.
Sure, the old herbal tea came along, but that usually meant an even mustier tea bag that made a brew that tasted like hay or raspberry cordial. Green tea was a bitter concoction you drank for some vague health reason, and certainly not for pleasure.
To right this wrong, Anna Salek opened a tea shop in Mission Bay about 10 years ago, inspired by a successful tea stand she had run at The Rocks Market in Sydney. But Auckland wasn't ready for her. "It was a disaster," she says.
Today Salek runs her Tea Total wholesaling business and online shop from a fragrant warehouse in Albany, supplying cafes all over the country with about 140 blends featuring enticing names like 1001 Nights (green and black tea, jasmine, rose, sunflowers and calendula flowers) and Winter Dream (with cinnamon, orange peel and rose petals). So what's changed?
"The food industry has come a long way," says Salek
"The cafe and coffee industry is more sophisticated. There's a pride that goes with serving good coffee. Slowly, there's emerging a pride in serving good tea."
Yes, long after the renaissance of wine and coffee, the tea renaissance has finally begun. Dedicated tea shops are springing up where tea is queen and coffee - if it's offered at all - is a token offering from a plunger. Hurrah! The English breakfast is certified organic, the green tea comes sprinkled with pieces of strawberry and a hint of champagne and nothing comes in a (shudder) tea bag.
Even espresso cafes and stylish bars are starting to recognise there is a big market in quality loose-leaf teas.
Accessorising your kitchen with a cappuccino machine is so early Naughties. Those noisy, shiny monstrosities are being demoted to the pantry to clear the counter for voluptuous retro teapots and dainty china cups. In certain circles even tea cosies have become covetable.
No longer do tea lovers agree to meet for coffee, knowing it's just a metaphor for a far less fashionable pastime. Today there's no shame in boldly declaring that you're meeting someone for a cuppa.
Tea parties with tiered cake stands are de rigueur, while high tea has changed from a fusty pastime for elderly women to an exercise in sophistication.
Nowhere is the tea revival more evident than on a weekend afternoon at Auckland's Langham Hotel or the Sky Tower's Orbit restaurant. At a time of day that is usually dead for the restaurant trade, hundreds of people (mostly women) flock in to take tea as it used to be. Better, in fact.
The Langham does afternoon tea the traditional way, with tiers of dainty cakes, scones and sandwiches and pots of exotic teas, as served in its London hotel since 1865. There's an air of quiet glamour here: groups of women sink into oversized armchairs or perch on overstuffed sofas, murmuring quietly under the diffused light of a Titanic-sized chandelier. Since the tea experience was introduced several years ago, it's become one of the city's best excuses to wear dresses and play ladies.
At Orbit the fare and the setting are more modern. The menu even suggests tea matches for its sandwiches and treats - lamingtons with rose and French vanilla tea, anyone? It's only been serving high tea since late last year, but on the sunny autumn afternoon that Life visits there's barely a table to spare.
Yet this renaissance is moving slowly. Even today, many cafes will spend a fortune on a cool barista, gleaming retro expresso machine and exotic coffee beans, but order tea and the waitress casually plonks a tea bag on a saucer with a cup of hot water and sends it out with a $3.50 bill.
For that they don't even put it in the pot!
Enough! Here's the secret to getting a great cup of tea: Complain. Vow loudly to return to the cafe only when their tea selection takes up as much room on the menu as their coffee.
Just imagine: in a few years waiters in cafes all over New Zealand will be sighing at unwitting old ladies who ask for "Tea, please."
"Yee-ees, but do you want English breakfast, earl grey, jasmine, darjeeling, sencha, rosehip and hibiscus, peppermint, chai, chamomile, mandarin ...?"
How to make the perfect cuppa
* Take a kettle.
Put some fresh water in it. Switch it on. Yes, it sounds obvious, but tea aficionados will gasp if you re-boil the water that was left in the jug after your last cuppa.
* Be wary of tea bags.
They can be a flimsy disguise for a low-grade tea. Also, tea is infinitely better if the leaves are allowed to swim as they infuse. Think free-range chicken, not battery hens. Use a teapot with an infuser, or strain as you pour.
* For loose-leaf black tea infuse for three minutes before pouring. Add an extra teaspoon of leaves if you drink it with milk.
* Green tea is a delicate creature.
It loathes milk and insists on slightly cooler water, so use one-part cold water to four-parts boiling and infuse for just one minute. Otherwise it will punish you with bitterness.
* Store tea in an airtight container in a dark spot.