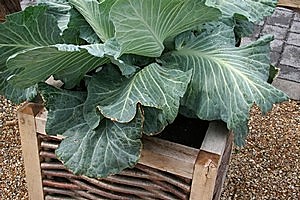 What a difference a few centimetres make. When we had a new bathroom suite recently fitted for our parents, the sink was mercifully a little bit higher than the old model, so gone are the creaky backs when they come to their ablutions in the morning.
It's an awful word, but I think I may be going all ergonomic - and now it's time to turn attention to our vege garden, which happens to sit on a patch of the filthiest dirt in town. Cluggy clay is a nightmare for most vegetables, save perhaps your stalwart clumps of mint, horseradish and rhubarb.
Yet whenever I go to a garden show or look in a magazine, it seems like I'm the only gardener left in town who hasn't yet gone all high-rise and trendy with raised box beds.
On normal soil you can grow perfectly decent vegetables in terra firma - especially if you dig in plenty of compost from time to time to further improve the soil structure. In-fact there's a robust argument that if you can, it's better not to go to the expense and fuss of raised beds. For although boxes of built-up soil are said to warm up earlier in spring, bringing forward the growing of tender vege by a few weeks, in mild parts of the country we can get away with growing most of our vege most of the time so that's only an advantage in chilly climes.
The drawback of raised beds - especially in our climate, is that although it improves drainage, in our hot summers the soil can dry out all too quickly forcing you to become a slave to the hose pipe.
Dry soils actually slow growth; they make your lettuce taste bitter and your spinach bolt to flower too fast without bothering to make all those luscious leaves on the way. So if you are blessed with half-decent dirt then resist the trendsetters and stay low. Mounding the soil up a little above path level will keep the soil light and warm - a north-facing aspect would be ideal.
On clay however - and if you have to take a deep breath whenever you bend down - it makes sense to go all high-rise and grow your salads in the sky.
Having children in the garden is another good reason to box your crop. For the small size of their feet, it's impressive how much devastation a child can wreak. A wall is a great deterrent and when you do try to get them picking strawberries they definitely find it easier working at eye level.
The question is how high to go?
While we are in the midst of the grow-your-own craze, magazines will always be stuffed full of images of immaculate cabbages and unsullied designer peppers preening themselves in decorative cubes of rustic woven willow or cutting edge zinc alum.
I wonder if my bevy of moth-eaten offerings - mutant cauliflower and keeled over kale will look quite so hot slouched on high-tech platforms where the neighbours will notice and smirk.
Knee-height at minimum seems to be the way to go for raised beds but imagine the cost of the wood and all those barrows of topsoil to be carted around the side of the house. In fact, imagine the pile of dumped topsoil sitting on your drive staining the asphalt and blocking the garage door for weeks - the neighbouring kids moving gleefully in with their trikes and little red plastic spades when your back is turned - pretending to help but doing the exact opposite.
Perhaps, rather than raising my beds I could go the other way and dig out my paths - create trenches a la World War 1 with perhaps a subterraneous grotto at the end. When they fill with water in winter it might look rather good - a Venetian take on the potager - I'm sure some trendy magazine would love pictures of that. The trouble is that digging down doesn't solve the problem of clay.
In the end I suspect I will end up with simple wooden shuttering. I'll shun the woven willow which will rot after a few years or take root and turn into trees; I'll forget the trendy tin which would bake my plant roots on a hot summer's day. Those inexpensive scaffolding plank boards will do. You only really need 15-20cm of good soil anyway laid over your existing cluggy mess to make a huge difference to your crop. I can always paint them red if I want my food to look 'Fun!!' and I could lash copper strips to the sides to outwit any pesky slugs and snails which have the cheek to scale my castle walls.
No, my low-rise plot is the almost perfect solution.
The only draw back is that I'll still have to bend and stoop, and when a herd of marauding children appear on the horizon with their brightly coloured seedpackets and designer gumboots I'll have to divert them back indoors with the promise of some real food like chips and chocolate and large glasses of cola.
Could do this week
* Continue to sprout and then plant seed potatoes, as well as sowing broad beans.
* Plant gladioli corms where they will have good drainage.
* This is a good time to sow a batch of sweet peas indoors. Plant them in deep containers to allow the roots to probe deeply.
* Fertilise trees and shrubs, vegetable beds and borders with a general fertiliser or the gentle action of sheep pellets or seaweed, which are kinder to the soil.
* Start mulching beds to trap valuable moisture in the soil. Mulch the back of borders with fine bark but leave the fronts clear; not only will this allow flowers to seed about and increase, it will stop birds pulling the bark over paths and lawn and making a mess.