The humble kumara is a versatile vege that can be eaten all year round.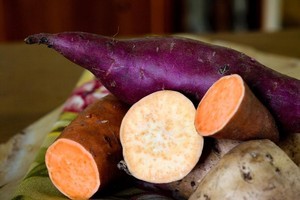 I thought the temperatures were warming but after fossicking around for my socks at six this morning while the windows were frosted over, I've decided perhaps they're not. The chilliness did make me consider how, as we near the end of winter, we begin to tire of hearty root vegetables. One, however, that has a practical charm which lasts the whole year through is kumara.
Potatoes and carrots may be as easily accessible and transformed into delicious dishes too, but there's just something about the kumara that I prefer.
A quirkily shaped vegetable of which there are at least three different varieties - there are more, of course, if you are growing your own or have some heirloom seeds ready to throw about in the back garden. The common varieties have either purple, beige or orange skin. Look out for the orange fleshed kumara which has higher antioxidant qualities and is sweeter than the others. I also believe it is the best option to use for soup, producing a gorgeous bowl of russet-coloured goodness.
The kumara is a deliciously versatile vegetable that can be baked, fried, mashed, steamed or boiled, all the while adding a delectable sweetness to all it encounters - sweet or savoury. Kumara contributes a uniquely soft texture and rich flavour.
Even though it is native to Central America and commonly used in the West Indies and Jamaica, we do tend to claim it as our own. "Sweet potato" just doesn't quite sound the same in this part of the world.
Chef's tip
Treat your kumara as you would potatoes. Don't buy any that are sprouting or have soft patches. Keep them in the bottom of the pantry or a dark cupboard. Don't refrigerate.