Sick of crowded aisles and long queues? Try taking your grocery list online.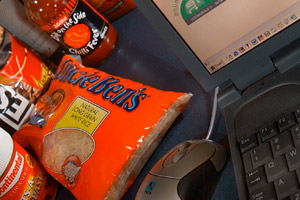 If you told the women of 1950s New Zealand that one day you could simply click a button in front of a coloured screen and order your entire week's shopping, which would then be delivered to your door, it's safe to assume most wouldn't have believed such a tall tale.
But in the age of broadband internet and online shopping, it was only a matter of time before food retailers started offering their wares to those who are tired of running the weekly gauntlet of crowded aisles, never-ending queues and trolley rage.
According to Nielsen's 2010 Online Retail Report, 45 per cent of Kiwis now shop online. Although the most popular items are airline tickets, books, magazines and entertainment tickets, the report shows that many of those surveyed would consider grocery shopping online in the future. The number of purchases per online shopper was also expected to increase.
The big player in internet food shopping is Progressive Enterprises, which runs both the Foodtown and Woolworths sites.
The company was early on the online food-shopping bandwagon, starting up the original Woolworths website in 1998 and the Foodtown website in 2003. Since then, Kiwi food websites have continued to enter the market.
"The more the merrier," says Ruby's List founder Craig Luxton, who recently launched the gourmet meat and poultry site after more than a decade providing quality meats to restaurants.
"It's not a direct challenge to the supermarkets or the butchers, but it is a convenient option."
The challenge, adds Luxton, is to get people "to trust that the products will come through to them fresh and on time after they have sat down at their computer and ordered".
Of course, with any newfangled technology, there are pros and cons. We've detailed them here - and added some of the best sites.
THE PROS
Ditch the list
Sick of having to write a list every week? The Foodtown and Woolworths sites save a list of basics that you can use each time. If you want to get even more techno-reliant, link your Onecard to your registration, which will present you with a list of products you commonly buy. It's a bit Big Brother, but it speeds up the process.
Get special deals
Most websites offer some online specials you can't get in-store, although be aware it can work the same way in reverse.
Help your waistline and your wallet
Those in favour of online shopping claim that it not only saves time, but it can also stop you buying unnecessary treats as you wander the confectionary aisle - or those your child sneaks into your trolley. Be warned, though - there are plenty of unhealthy treats available online, so self-control will still be required.
Can't think what to have for dinner?
The Foodtown website features recipes and, if you fancy one for tea, you can simply add the ingredients to your trolley from a ready-made list. Too easy.
THE CONS
You don't get to choose them apples
For those who love to pick over the fruit and veg to make sure they are getting the ripest or leafiest, online shopping may not suit. Most sites guarantee they'll select the best of everything - Foodtown and Woolworths hire personal shoppers - but their standards are not necessarily the same as yours.
You pay for delivery or packing
Although you may save on time and petrol costs, there is an added cost for delivery (it varies from site to site) or for packing (the Progressive sites offer a pick-up service for $3.95 in some Auckland stores, where the shopping will be done for you and you can collect it at a specified time).
If your favourite isn't there, you don't get to choose a new one
If your best-loved sausies aren't available at the time of ordering, they may be replaced with another product - but you probably won't get to choose it.
Every site has a different policy on replacements, but most will either leave the product off and not charge you, or will replace it with something of the same value or higher while charging you the original price.
SPECIALITY FOODS
Ruby's List - restaurant and catering-quality meat products, all free-range and Kiwi-grown, delivered fresh or frozen to your door. Available throughout the country (delivery times longer for South Island and rural areas).

Food Direct - groceries and specialty goods with an eco-friendly ethos. Food Direct uses petrol-friendly delivery vans and oxo-biodegradable bags that are easily recycled, and has a huge variety of products available to Auckland.
Asian Food Warehouse - ethnic food options that often aren't available in regular supermarkets. Service available throughout the country (purchases are sent via mail).
Food box - free delivery of fresh fruit and vegetables for singles, couples and families that are seasonal and sufficient for a week (Auckland only).
Organic Connection - fresh organic produce boxes delivered anywhere in the North Island, sized for various households.
Neat Meat - another site delivering restaurant-grade meat, as well as related pantry items such as rubs and seasonings. Includes a comprehensive guide to meat cuts and recipe suggestions. Auckland orders made before 8am can be delivered the same day; or the following day for the rest of the country.