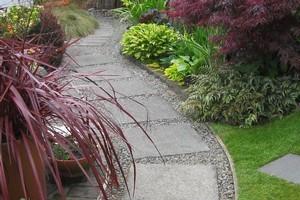 Not only is the mother-in-law a bit skimpy when it comes to slicing the beef before we leave on a Sunday night, she doesn't splash out in the duvet department, either. Whatever the weather when we visit, we have to shiver under a tissue-thin affair - layering it with blankets and sometimes coats at this time of year so we don't freeze to death. I wouldn't mind but because tea was on the light side I haven't got the calories to burn for heat.
In my book, thick is good; be it a duvet, a slice of cold meat, a coat of paint on the banister or the envelope passed over for a cash job.
Lay it on thick, be generous, don't skimp and great will be your reward both around the house and outside in the garden. A fatter path is easier to walk down - especially for two - and it allows plants to froth over its hem without obstructing your passage. Mulches, too, are best laid in generous layers (10cm ideally) if they are to smother undesirable weeds and hold in the moisture - just don't pile them around the ankles of shrubs or trees or you could cause them to rot.
Planting is best done in multiples rather than in meagre single specimens, and the hole you place plants in needs to be generous, too - deeper than you think so the soil around the roots will be soft and fluffed up. Pots are also best handled generously. They look best if you exploit their natural herding tendency and group them. Buy the largest your budget will stretch to, for whether your patch is momentous or minuscule, a grander container adds a swaggering certainty to any design.
In fact, the only bit of the garden where you can be as meagre as a fashion model's lunchbox is a hedge. Fat hedges sag and fall apart just when you need them to keep their stiff upper lip, but slice them as thin as cheap ham and they'll still do the privacy thing while being infinitely more enjoyable to trim.
Arguably, the area where we struggle most in letting out our belts is the flower-bed department. My dad was always over-protective of his lawn. And even though he loathed having to get the mower out, if ever I wanted to dig up sward to make room for more flowers, there would be a battle before I could even think of getting the half-moon edging tool out to slice off a bit more of the green baize.
To work as they should, flower beds need a sense of depth, so plants can be layered one against another in the same way that oil paints are built up on a canvas. Shrubs and tall grasses at the back will screen out a multitude of sins, but with two or three metres in front of that to play with, you can step down the heights and build up a three-dimensional scene rather than a lifeless line-up of assorted individuals.
It's not just for looks, either - expansive borders are better for longevity, too. The layering process means as one plant is finishing, another will be springing up between it and its neighbour to keep the show going.
Right now spring bulbs that have finished flowering will be looking tatty, but planted behind expanding perennials, they can be quickly disguised.
In small gardens, of course, there isn't the room for great rolled-out flower beds in uniform blocks, but the swelling of a sinuous curve in places can create fat headlands which are much more interesting than just a line of plants sitting around the grass like pedestrians waiting for the bus.
A designers' trick for creating planting depth is to rotate your ground plan 90 degrees and divide the garden up into diagonals and diamonds in grid fashion, leaving behind a useful series of triangular flower beds fat enough at the middle to do something interesting.
Winter is the perfect time to steal a bit of lawn and make a grand border. Shrubs, especially, cover a lot of ground and many quickly burgeon into something the size of a small armchair. If you think that a large border looks like more work, remember that manoeuvring plants in a big bed is far easier - especially if you keep the layout bold and simple.
The easiest way to enlarge a garden is simply to dig away a 20cm strip of grass along your existing borders. Like the slow onset of middle-age spread, this is the sort of lawn-stealing-by-stealth that plantaholics with lawn-loving partners are forced to indulge in at twilight to satiate their desire for more plants. A sharp spade is essential. Slice off the thinnest crust of turf and the rest below can be dug over, with fresh compost added.
Bolder areas can be created by removing fiddly corners and sharp angles of lawn where mowing was difficult anyway.
Even a flower-hater can be persuaded if they think a simpler shape will make their life easier.
Planning the layout within your new beds can be tricky, but basically treat it like a history book and read backwards. You don't want everything in regimented lines and, for variety, you will need a good mix of evergreens and deciduous plants; perennials and shrubs; plus some bulbs and seeding annuals to fill the gaps.
Save your flowering shrubs and perennials for the front and work backwards, so the earliest spring-flowering plants are at the back of a bed. Spring flowers often cope with more shade later on and, because they can die off and look peaky, they need to be hidden behind the late-risers who will carry on the show.
A classic mistake is to lazily dibble in spring bulbs at the front of borders, only to be left with the sight of toppling dead foliage in late spring just as everything else is getting into gear. Tuck them further back and you won't have to worry about their untimely demise.