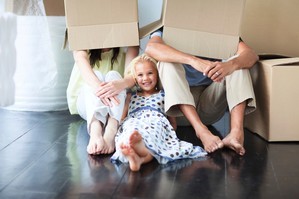 We moved house last weekend and it went reasonably smoothly. Well, as smoothly as packing up your entire life and chucking it in the back of a big truck and carting it across town can go.
Apart from a bag of our little girl Mia's winter woollies going missing, which is a bit of a pain for the wee thing considering this week's cold snap, nothing was lost or damaged.
While my wife and I were excited to move into our new pad, we were a little sad to be leaving the first house we'd ever owned.
Mia on the other hand didn't give a hoot. The day of the big shift she went off to her nanny's in the morning, and when she came back in the afternoon - to the new house - she didn't even ask about the old one.
She trotted up and down the hallway, darting in and out of rooms, and exploring the piles of discarded boxes like the house was her new playground.
She's also quite taken with her new room as it's been decorated more than her last one.
And she still hasn't asked about the old house once. It's safe to say she loves her new digs - even though it's freezing.
She's slept the whole night through since we've been here, apart from one morning at 4am when she wandered in to our room - which was fine because toddlers make great hot water bottles.
And it's wonderful she feels comfortable in her new environment. Wouldn't it be lovely to be as adaptable as a kid?
The first night we were in the house my wife and I were getting up and checking out every creak and groan the house made. I tell ya, I wished I'd had my seven iron beside my bed.
We've put new locks on the front and back doors, an electrician mate is coming over this weekend to put sensor lights up, and an alarm's the next thing on the list (apart from some Pink Bats and a decent heater).
Yeah, yeah, call us paranoid. Mad even. But despite the excitement of a new house, the upheaval of moving is disorientating, and the unfamiliar surroundings take a little getting used to.
You see, although the new house is slightly bigger than our old place, it needs a bit of work because it's also colder and far darker than where we came from.
But after being here for nearly a week, we're starting to chill out and take the carefree Mia approach to exploring this new place.
So I'm picking this weekend, or perhaps the next, our new house will become more like a fun playground for my wife and me too.