James Millton shuns PC pigeonholes in his quest to make the very best biodynamic wine he can, writes Joelle Thomson.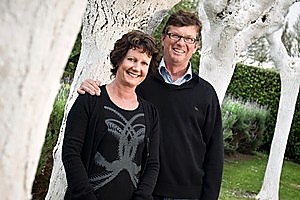 Call him alternative, call him innovative, call some of his grape-growing practices a bit wacky, just don't keep throwing the "b" word at James Millton.
"I think innovative winemaking is more interesting than talking endlessly about biodynamic winemaking," Millton says as we discuss his unplanned journey into the extreme end of organics.
Despite his reluctance to be pigeonholed, Millton is New Zealand's leading biodynamic winemaker (the winery is in its 25th vintage and the vineyard New Zealand's first commercial fully certified organic winegrower) not least because he has always been reluctant to use their certified status as a marketing tool.
When Millton, with his wife and business partner Annie, first produced certified Bio-Gro wine, they made not mention of organics, preferring to have the wine judged on its quality alone. More recently, with the quality proven and organics taken more seriously by more people, Millton labels have started mentioning the wines' biodynamic origins.
When they began tending vines on their Gisborne land in the early 1980s, the Millton mantra was to thrive and survive. Organic and biodynamic certifications weren't on their winemaking radar, but when the couple began battling disease and pests with the traditionally liberal application of herbicides, pesticides and fungicides, the downsides - like rashes breaking out on the skin of workers - seemed to be outweighing positives. They figured there had to be an alternative and that led them down the path to biodynamics, based on Rudolf Steiner's spiritual science.
It expands on organics to include the idea that movements of the moon and other planets influence soil, plant and animal life. Simply put, it's the idea that everything is connected.
Says Millton: "Biodynamics is about arousing the senses to be responsive to expressions that reflect the true quality. Almost all wine growers in New Zealand who are organic are practicing biodynamics, which is, quite literally, about 'life energy'. That is a very powerful thing."
Millton liked growing plants when he was a child, and recalls his parents often had wine around.
"I enjoyed the process and observation of fermentation and grew up in a household in the deep south-west of the South Island, where my parents would consume wine with dinner," he remembers.
"I don't think it was anything special, but wine was always around. I remember smelling red wine when I was about 8 and having the sensation of the smell of ink - probably quite formative in creating a sense."
Millton travelled to Australia and Europe in his 20s, working in many of the traditional wine regions, but organics wasn't really on anybody's radar in those regions then.
"The wine producers I met there were in full swing of increasing production," he recalls. On his return home, he began planning his own wine brand with Annie based on "a busting need to be good and survive".
He first heard the term "biodynamic" in 1981, then read Steiner's book of eight lectures called Agriculture, given in 1924, but confesses it was difficult to understand at first.
"You have to learn how to put that knowledge into your dreams to fully understand the extent of what is actually happening - and what you need to do to work with empathy."
Plus there were loans to pay off, making innovation a bit more daunting if they were to fulfil the "survive" part of their principles.
"We were paying over 25 per cent on our bank loans, so we had to be very sharp," Millton says.
In that environment, he and Annie felt they were alone in their concerns about the environment - the natural health of their vines and the health of those working in their vineyards using pesticides, herbicides and other chemicals.
"We were so busy with our heads down and so worried about debt loading that we didn't have the chance to look up and really see what was in front of us - and that out there were answers to problems."
But finally they did make tentative first forays into organics, which have morphed into a complete adherence today to biodynamics in their vineyards and grape growing.
And today Millton has no battles outside the increasing need for market support in what he creatively calls "these financially exciting times".
"Our vineyards are responding to the treatments and tonics we apply and share," he says. "We have excellent co-workers who understand most of the stresses and innovative thinking which is required.
"Every day there are more enquiries for products, which is demanding because we have a finite number of BioGro and Demeter (biodynamic) certified grapes to draw on. It's harder growing small quantities of high quality grapes than it is to grow masses of ordinary ones using sprays and fertilisers - or whatever it takes.
"Being sincere in our intentions towards the overall understanding of biodynamic principles - whereby the farm is an individuality - we would not want to buy in certified grapes to increase production."
And Millton's dream for the future? "That every grape grower and winegrower is able to work in a sustainable grape-growing and winemaking programme. And that those who achieve the hefty requirements of becoming certified organic or biodynamic will receive an industry award as a recognition of quality.
"And that the term 'produced and bottled on the property' will be given a sense of recognition for one's long-term commitment to this wonderful trade - not industry."
What is biodynamics?
According to the Millton Vineyard website millton.co.nz and the Biodynamic Farming and Gardening Association, biodynamic.org.nz, biodynamics is a method of organic agriculture or horticulture based on several steps:
Use of biodynamic sprays to stimulate biological activity in the soil, and improve retention of nutrients, such as animal wastes.
Stocking with several different animal species to vary grazing patterns and reduce pasture parasites.
Widening the range of pasture species.
Planting trees for multiple purposes.
Crop rotation designs to enhance soil fertility and control weeds and plant pests.
Recycling organic wastes where possible by large-scale composting.
Changing from chemical pest control to prevention strategies based on good plant and animal nutrition.
Biodynamicists also follow an astronomy planting calendar based on the idea that astronomy has an effect on soil and plant development. For example, it dictates what phase of the moon is appropriate for planting or harvesting different crops.
World famous
Millton's Te Arai Vineyard Chenin Blanc 2002 is listed in 1001 Wines to try before you die, edited by Neil Beckett, (published 2008, Penguin, $65).
Other vintages of the wine recommended in the book are 2000, 2001, 2004 and 2005.