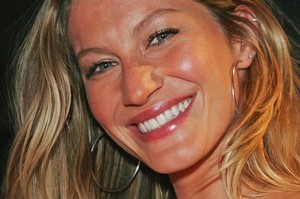 Brazilian supermodel Gisele Bundchen has called for mothers to be forced to breastfeed for the first six months of their baby's life.
The 30-year-old, who lives in the United States, said there should be a law preventing mothers from using formula milk.
Asked about keeping her figure, Bundchen told Harper's Bazaar magazine: "I think breastfeeding really helped. Some people here [in the US] think they don't have to breastfeed, and I think, 'Are you going to give chemical food to your child when they are so little?' I think there should be a worldwide law, in my opinion, that mothers should breastfeed their babies for six months."
Her comments came after actress Denise van Outen said she gave up breastfeeding her daughter Betsy after three weeks because she did not want photographers taking pictures.
Bundchen, who is married to American footballer Tom Brady, was modelling swimwear within six weeks of the birth of their first child.
- INDEPENDENT