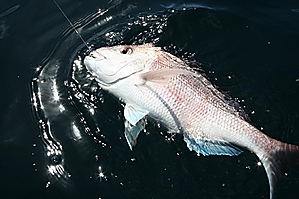 Every tackle box these days contains a selection of lures; usually one of the old, green, plastic kahawai jigs with a double hook wired to one end and a bronze ring on the other, plus a scarred metal jig with rusty hooks, maybe a feathered trolling lure and, in more recent times, a box of soft baits and a couple of slow jigs still in the packet.
The metal jigs, which seem to have been largely replaced by the modern fancy types, have been around for a long time. In parts of the world they have been used for generations, but found their way to our waters in the 1970s.
The first snapper I saw hooked on a metal lure was caught by accident. It was in 1971 and we were fishing off the mouth of the Rangitaiki River, where it flows into the Bay of Plenty at Thornton, just up the coast from Whakatane. It is a fishy place, with kahawai common in the brown river water, snapper on the edge, and predators like sharks and kingfish lurking in the margins.
We headed out to troll and spin for kahawai with trout tackle, fly rods with smelt flies and spin rods armed with a lures such as the silver toby.
The were soon bending as 3kg to 4kg kahawai slashed at them. It was just a question of flicking out the toby, letting it sink for a few metres then retrieving steadily. I cast out then laid my rod down to net a fish for my mate, when my rod suddenly started jerking. I'd struck a powerful fish. It tore line from the little reel and we had to follow it for 20 minutes before a large, silver shape gleamed deep in the water. A magnificent snapper surfaced, exhausted, the small toby dangling from its jaw.
That snapper weighed 9kg and when cleaned was found to be packed with baby flounder, called dabs, about 10cm long. It does not take much imagination to visualise the lure drifting down to the bottom and kicking up a puff of sand as it settled, perfectly simulating the action of a startled little flounder in front of the prowling snapper. Flounder are a favourite dinner for a lot of fish. Sharks hoover them up like a vacuum cleaner in harbours such as the Manukau; and one story recently told of a kingfish seen swimming above a stingray as it moved across the seabed and when the ray scared a flounder the kingfish would dart in and grab it as it swam away. The king was using the ray like a bird-dog to locate its prey.
The next encounter with jigs was out of Whakatane, fishing at White Island with a young skipper, Rick Pollock, recently arrived from California. Rick had learned his trade in the competitive world of charter fishing out of San Diego, and the Bay of Plenty was like virgin waters to someone of his experience.
Big, flashy diamond jigs were commonly used in California, particularly to lure kingfish or yellowtail as they are called there, although they are much smaller than our variety.
Visiting American anglers brought boxes of jigs to Whakatane and showed local fishermen how to use them. The practice of drifting with a fillet of skipjack tuna hanging in the water off White Island was soon superseded by the jigs, which quickly caught on.
Today, those jigs appear as Stone Age relics. Speed jigging and mechanical jigging employ slender knife jigs, matched with custom-built short, powerful rods and special narrow-spool, high-speed reels. It is a different world.
Jigging for snapper developed in this country at about the same time the diamond jigs arrived at Whakatane, and the first successful proponents made crude lures - such as a teaspoon handle with the spoon cut off and holes drilled for a split ring and swivel and hook. Others were fashioned from bright lead sinkers armed with hooks - and they all caught fish. Snapper loved them, and boats drifting through the Motuihe Channel resembled large spiders as the jig rods were jerked up and down.
But now it is all plastic and colourful skirts. What will be the next fashion?