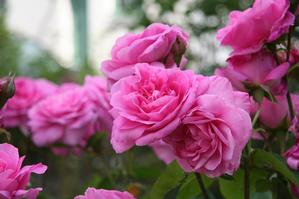 Yes they are prickly and can look rather flea-bitten by March, but still, everyone should have a rose somewhere in the garden. There's nothing like their ball-gown flowers, especially when they are fresh and full of the joys of spring. Unlike other blowsy show-offs like rhododendrons and peonies, they go on and on if you deadhead, and you can steal some credit for the show if you chop them back now. Yes, they are prickly, but what other shrub can be so satisfyingly butchered and bounce back with utter forgiveness?
For the rose lover, July is your busiest month. Growth can begin surprisingly early so I always aim to have mine pruned this month and sprayed with copper and oil soon afterward to kill over-wintering pests.
This is also the time when I receive newcomers through the post. Bare-root roses are cheaper than pot-grown stock and you get beefier plants for your money. Despite looking like witch's broom-ends, these unpromising, twiggy stubs cope brilliantly with the indignity of being dragged about the garden in sub-zero temperatures and pushed into wet clay with an unmerciful boot.
All they ask is that you keep the roots damp between arrival in the post and planting and that you throw as much compost or manure into the hole as you can. Soil prep really will save heartache down the track. Roses like a rich, well-manured ground on the heavy side so it retains plenty of summer moisture, so if you are on a cluggy clay they will not flinch. They will thrive even better if you work a few barrows of compost into the soil.
The thing roses will not forgive you for is if they find out you have entertained other roses beforehand in the same bed. Call it "replant disease", "rose sickness" or jealousy; nobody quite knows why roses hate secondhand soil, but they tend to hold a grudge and sulk for years afterward. If you need to plug the gaps in an old established rose garden by replacing like for like, remove a good barrel load of the old soil first and swap it for some from another part of the garden.
Organic matter dug into the new planting hole seems to help, and a sprinkle with mycorrhizal fungi granules can be the modern panacea to all your woes.
Often sold as "root booster", these granules contain the spores of microscopic fungi. The fungi we get on our skin tends to be somewhat unwelcome but an amazing 95 per cent of plants including roses welcome such intimate bonding with a mould and have evolved a special relationship with microscopic soil fungi. The fungi nestle up along their roots and facilitate the absorption of nutrients and water - mainly by increasing their surface area. In return, the plants hand down simple sugars made in their leaves and everyone is happy. It's the perfect symbiotic partnership and one that will no doubt outlast the present coalition government the poor Brits have heralded in. Just don't spoil it by feeding your roses with artificial fertilisers and double digging your beds, because soil fungi it seems, are veritable hippies: they like to be left undisturbed in the soil - occasionally showered with gentle tonics of seaweed or sheep pellets, but nothing ever in powdered form with hazard warning symbols and the words chelate or sulphate written on the packet.
So if you've ordered your broom-ends and your friendly hippy fungi and natural blood and bone tonic, dug a massive hole and swapped so much soil that the neighbours are getting suspicious you are excavating a pa site in the backyard; it's now time to think about the depth of your rose.
Most cultivars these days are actually a double-decker sandwich of two roses glued together. On top sits Dr Jekyll - with his pleasant flowery face and mild manners - but grafted beneath lies the rootstock, a strong wild species rose that will pump energy into its refined alter ego upstairs.
The union of the two can easily be seen as a swollen scar just below where the branches meet the roots, and it's important to plant your rose deeply so that this graft is just buried below the surface.
If you skimp on the hole not only will your rose rock about in a wind, but Mr Hide in the basement is likely to get a sniff of sunshine and send out a wild and thorny sucker - this will not only sap energy from the rose you paid all that money for, but will rip you to shreds when you bowl up nervously with your pruning shears next winter.
Could do this week
* Prune your roses. Always cut just above a healthy bud - preferably facing outwards.
* First remove any dead, diseased or rubbing twigs.
* Aim to remove one or two of the oldest growths completely to encourage constant rejuvenation. Strong uptight bushes such as hybrid teas can be pruned harder than twiggy old-fashioned roses. David Austin "English roses" lie somewhere in between.
* Remove two thirds of the growth on strong growers and about the top quarter to a third on weaker ones.
* Meticulously clean the ground of leaves and debris under roses and mulch to reduce re-infection of fungal diseases like blackspot and rust.