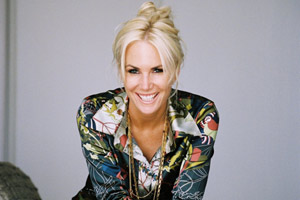 Paula Herbert is one of those glamorous socialite types who looks enviably golden and glossy in the Sunday social pages. She's an avid spa-goer both here and on frequent business trips overseas.
Teenage modelling has given her poise and when she was tapped to enter the Mrs World New Zealand title after being a Fashion in the Fields finalists at Ellerslie (wearing a cream Phillip Lim dress and black Louis Vuitton heels), she decided to give it a go.
Herbert, aged in her early thirties, won the Mrs New Zealand title last year and went on to represent New Zealand in Vietnam.
Since then the stepmother to four who has worked in interiors and publishing has focused on designing a swimwear/resort line called House of Herbert, which she showed in Miami in May. She's currently in the States with her husband Simon, a lawyer turned investor.
The couple live in Auckland and have a home in Queenstown.
How often do you use a spa?
Every week if I have time. It's the one place I switch off my cell phone and make myself relax. Most of the time I go for either a relaxing facial or massage. My favourite Auckland spa is Spa Parnell. Sally who owns it has done wonders with my skin and she is the best massage therapist we have ever had.
Do you go alone, or with friends/partner?
I usually go alone when we are in Auckland, but when we are overseas I always try to take my wonderful husband with me.
Tell us about a magic spa experience?
My husband and I were away in Europe last year and we were staying in a hotel called Hospes Maricel in Mallorca. The spa was built within ancient cloisters that were hanging on the edge of the Mediterranean Sea. It was heaven on earth. The ocean breeze, treatments and therapists were incredible. I will always remember how beautiful and relaxing it was. What do you look for in a spa and how can you tell if it is good?I look for a clean and quiet environment with a good energy. I also look for a spa that gives amazing results, anything from a great eyelash tint to a skin brightening facial or massage.
I think it's always good to be recommended to a spa by someone else who has had great results or treatments. Then the individual needs to feel happy.
What annoys you?
People who don't take enough care with their clients. I'd like to see more time taken to research clients' needs.
Why do you recommend a spa experience?
It's a great way to take time out. We all live busy lives and a spa treatment is a lovely way to relax and reflect. It is also a great gift, knowing that you can pass on a little time out to someone else.