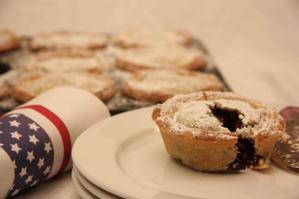 When I first started cooking for Americans, one of the events I had to cater for was Independence Day.
As a Kiwi I was at a loss as to what was eaten on this most American of holidays, a day full of tradition which falls in the middle of their lazy days of summer.
It's the day when Americans commemorate the Declaration of Independence signed on July 4, 1776 - the day that 13 colonies that then made up America were granted freedom from Great Britain and were set on the road to becoming their own independent nation.
That's a lot of pressure on a menu.
Independence Day celebrations are traditionally all about feasts and families. It's usually marked with picnics and barbecues, the air filled with red, white and blue streamers and balloons.
What is fascinating about the food traditionally eaten on this day is how different dishes, "owned" by different states, have gradually become part of the national cuisine.
Half the nation's potatoes were grown in Idaho or Washington which, logically, also produced potato salad and chunky spiced fries.
From Texas came the tradition of chickens and beef burgers thrown on the grill.
Iowa had more than 19 million hogs which contributed to the taste for hot dogs and pork sausage, while Florida threw in something refreshing with which to end the feast - juicy, chunks of watermelon.
And then there's the baked beans with simmered smoked bacon pieces, which was suggested to me as another classic dish, hailing from North Dakota, but which you won't find me cooking. I hate baked beans.
But no matter where your favourite dish is from, none of it is fancy food, but rather the tastes of childhood memories and Independence Days of the past.
For my July 4 menu I decided to do a Kiwi version.
I seated guests at several communal tables with their own grazing plate from which they could pick on my continuous stream of favourites.
I started with skewered grilled shrimp marinated in lemon, chilli and oregano; mini hot dogs, which actually looked more like miniature versions of toad-in-the-hole; skin-on hand-cut fries tossed in a plastic bag with onion powder, paprika, salt, garlic powder and ground pepper; and ribs rubbed with a little fiery spice.
Then there was cheese on the cob, made by pulling back the husks of corn cobs and brushing them with a thin layer of mayonnaise, a sprinkle of gruyere cheese and chilli powder. They are then wrapped in foil and put on the barbecue.
To finish the banquet, there was a layered blueberry, raspberry and mascarpone trifle with cherry icecream and crunchy pieces of hokey-pokey.