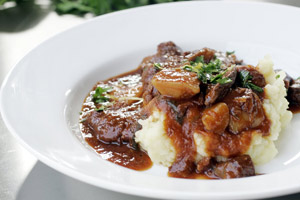 The secret to all good slowly cooked dishes is a good base, one of which is the "soffritto".
Translated into English from Italian, this simply means "fried" - all the ingredients are gently fried in olive oil until they are cooked down. The result is a wonderful building-block of flavour for whatever dish you are preparing.
Every European family, chef or home cook seems to have their own version of soffritto. The Spanish "sofrito" is made with onion, garlic, tomatoes, capsicums and herbs; the classic French "mirepoix" uses onions, celery, and carrots cooked in butter instead of olive oil.
My version of soffritto can be used as a base for any winter dish, from slowly braised stews and soups to delicious risottos. Once you have your own soffritto base, you can build on it and perhaps create your own family version to pass down to the next generation.
There are two key elements to a good soffritto.
The first is to take your time, don't rush it. So keep the heat on low when sauteing all the vegetables.
Otherwise you run the risk of everything burning and that burnt flavour will be passed on to the dish. Using a heavy-based pot will also help prevent sticking and burning.
The second is to make sure the vegetables are finely chopped into pieces, about a 3 to 5mm dice; a good sharp knife is a must.
Here are two wonderful winter dishes using the soffritto base, but with added spices and herbs that result in two completely different flavours. Both recipes can be served on the tasty celeriac mash recipe.
A few of Janene's recipes:
Janene Draper is owner of Farro Fresh.