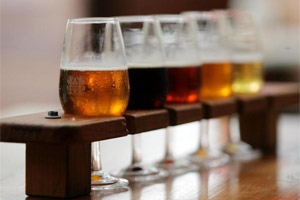 It's bottling day at the Hallertau brewery, which means a lot of popping, loud bangs, and the occasional tinkle of smashing glass as the team on the conveyor belt fine-tune pressure gauges, hoses and taps.
The scene is like something from a mad professor movie - not what one imagines goes on out the back of the classy Hallertau Brewbar and Restaurant - although that's because I don't know the first thing about brewing beer.
Which is why owner, director, brewer and beer-lover Stephen Plowman gives me a guided tour to explain where boutique beer comes from and why it's more like my usual tipple of sauv blanc than first appearances suggest.
Hallertau, named after the largest hop producing area in Bavaria, was set up by Plowman and wife Hayley five years ago in Riverhead, about 20 minutes drive from central Auckland.
Plowman is seriously passionate about beer and started brewing his own at university in Otago, before trawling the great beer-drinking nations of Europe on his OE.
It may sound a familiar tale, but Plowman wasn't just boozing around the world - he was taking in the subtleties and craftsmanship of beers everywhere he went. For that reason, he's never been to Oktoberfest. "It's boring, they only serve one type of beer there really," he says. Instead, he visited areas like Franconia, famous for having the highest density of breweries in the world.
"It's all about village breweries there," explains Plowman, "supplying the same area they have for hundreds of years. There are regional themes, but every village does it differently."
Celebrating local variations and flavours is something that has stuck with Plowman, and provides much of the inspiration for his range of beer, along with a commitment to using local hops (from Motueka) and malted barley (Canterbury).
Hallertau could be described as a micro, craft or boutique brewery, but basically is where you will not find a bottle of Tui. Ever.
"We were so different [at the beginning], having no mainstream beer at all, we were wondering if it would ever work," says Plowman. "We had people coming in all the time saying we'd never be successful if we didn't have Heineken in the fridge."
The stumbling block, Plowman believes, is New Zealanders are brand loyal about the "generic amber lager".
"They don't think about flavours much, it's more about the brand," he says, adding you wouldn't usually find a chardonnay enthusiast buying six bottles of the same wine every week. That's why he markets his beer to wine-drinkers who tend to understand flavours and aromas, and aren't so worried about the label.
"Plenty of New Zealanders don't want anything between their beer and getting off their heads drunk. They aren't our target audience."
But he's also smart enough to know traditional beer drinkers might like a change - just not too much of one. "The most important thing in making the transition from a home brewer to a commercial brewer is understanding the palate of the people you are serving to," he says. "It's a fine line between producing beer that has flavour, aroma and texture that isn't too different, but still challenges."
When it comes to the actual making, Plowman is in his element.
He's come a long way since the home brew in Dunedin. In between times, Plowman trained as a geologist and landed up in Western Australia.
"But I hated it," he says, and it didn't take much to persuade him when a part-time course in micro-brewing caught his eye in the famous wine region of Margaret River.
Back home, Hallertau is a 'typical Kiwi brewery' he says, and the actual brewing area uses old dairy tanks.
It's more laboratory than picturesque, although Plowman does have a cellar of oak barrels.
The brewing process is complex, although Plowman is good at explaining the basics.
Malted barley is mixed with hot water to form a porridge-like mash, which stands for an hour as it converts to a thin brown liquid called wort. The wort is filtered, and then boiled with hops, which are added later by Plowman to enhance the hops flavour, and it later goes through a separation process. It is then cooled, transferred to a fermentation tank, and yeast is added, before it is left for around four days, then matured at a cold temperature for up to three weeks.
At the Riverhead restaurant, the beer is pumped direct from the large kegs out the back to the taps at the bar.
As a dedicated wine drinker, I'm apprehensive I'll find it a little too beery for my tastes, but Plowman is determined to prove otherwise.
If you ask Plowman for tasting notes on his four main brews, he has plenty and is refreshingly honest.
My favourite, Copper Tart, is a spicy, rich brew dominated by chocolate, mocha and leaves a pleasing tingle in my mouth, and has a "fullness on the palette", he says.
However, it's also a "great session beer. One that doesn't turn you into a dick."
His own favourite is Statesman.
"It's a pale ale, really hoppy. It's the sort of beer where even when you're on your fourth or fifth pint - always drink in moderation," he adds "you can still take a mouthful of beer and it tastes good."
Hallertau is definitely getting something right.
About 1200 litres are sold each month and over summer that figure doubles.
The staple beers are now available bottled in stores such as Nosh and wine boutiques, and Plowman says there's even a profit.
Despite his logical approach and taste bud-pleasing beers, Plowman says he is yet to design the perfect beer. "It's an ongoing process.
"The ethos is each batch is going to be better than the last one, so it's about making small changes, but always striving towards perfection."