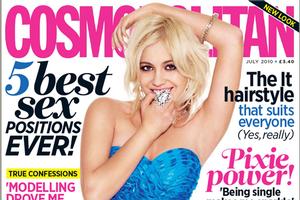 You have to wonder why Cosmopolitan felt the need to publish a "sexy" issue this month.
Come on, this is a magazine that has built its entire reputation around sex - under it, over it, any way you might possibly want it.
It launched in the United Kingdom in 1972 on the tsunami of the so-called sexual revolution. It is renowned for emblazoning the word on its covers. Sex is Cosmo's nuts and bolts, its DNA. Did the editor think not enough attention was being paid to nookie?
"It's not a 'sex' issue. It's a 'sex-y' issue," says Louise Court, who has edited the title for 3 years. "We thought it was fun. And Cosmo isn't just about sex, even though lots of people think it is." What else is it about? "It's about celebrating life, enjoying yourself, being a good friend and not living in a cocoon," she says.
It is also about men. Much has been made of Cosmo's critical role in sex education, back when nice girls wouldn't dream of discussing anal sex over their own dead bodies, never mind tea and biscuits.
But decades after Cosmo set out to emancipate bored women, it still focuses on men: there were its infamous naked centrefold shoots; now there's also a dedicated 'Man Manual' section, to instruct readers in the art of deciphering "what's really on his mind"; and this month "The Sex and the Single Girl" and "Sex and the Not So Single Girl" columns have been expanded to a full page each, and readers can learn that men everywhere have the same three things on their minds: Wayne Rooney, barbecues and boobs.
Cosmopolitan is widely considered to be the original women's magazine. It is the second-best selling in its market, behind its closest rival Glamour, which is edited by Jo Elvin.
So isn't it rather dispiriting for the modern woman that its agenda is so retrograde? It's not just Cosmo; other glossies have embraced this prototype. The July issue of Glamour boasts cover lines including "Men's all new sex wish list" and "Lily in Love" as the chosen angle for its lead interview with the multi-award winning pop phenomenon Lily Allen.
So, has feminism failed? As women still struggle to gain equal pay and equal representation in parliament, while faced with mass-market soft porn on the covers of glossy men's magazines, are Cosmo et al really suggesting that women should be so focused on men, how to get one and how keep him happy?
While Cosmopolitan, Company, Glamour and More! are high on the man factor, elsewhere women's magazines seem to have moved on: there are fashion magazines such as Vogue and Elle, the gossip and fashion combos such as Grazia and Stylist, while magazines such as Red and Psychologies plug into a renewed vigour for self-help style emotional and mental wellbeing articles.
Yet this focus was what changed Cosmo's fortunes in the first place. The magazine's winning formula, really, is that regardless of any revamp it has always stuck to the plan envisaged by its American founding editor, Helen Gurley Brown, in 1965. If it ain't broke, don't fix it.
"What is extraordinary about Helen," says Court, "is that more than 40 years ago she came up with this blueprint for a magazine which is not trend-driven. She totally got what women would always want to know about."
At its launch in the United States in 1886, Cosmopolitan was a very different beast; it ran award-winning fiction and, later, investigative pieces, and remained hugely popular until the 1950s, when the magazine market turned away from general interest titles and sales slumped.
It was not until 1965 that Helen Gurley Brown (widely credited as being the original Carrie Bradshaw) arrived to shake things up. She still presides, at age 88, over almost 60 other international editions.
Before Cosmo, Gurley Brown had written Sex and the Single Girl, (hence the Carrie comparison), an advice book that encouraged financial independence and said it was OK to have sex before marriage.
She also worked as a secretary in an advertising firm until she had proved herself as one of the best copywriters in the business.
This gave her first-hand experience in working in the very worst of men's worlds, and makes her sound rather like Mad Men's Peggy Olsen.
Court thinks we've come a long way since the days of Mad Men. "If you're in your early 20s now compared to in the 1960s or 70s, although women are still paid less overall than men they totally think they can get to the top. In the 70s it was just, 'oh, you'll be a secretary'. The challenges of sexism haven't been won, but they've moved on."
Carrie and Peggy can be construed as inspirational in different ways, but ultimately both characters wanted one thing: a man. And there lies the uncomfortable dichotomy. Elsewhere, single women are depicted as desperate (Bridget Jones), predatory (Sex and the City's Samantha Jones), or doomed to singledom (Jennifer Aniston) - but in Cosmo they are celebrated.
Gurley Brown's Sex and the Single Girl sold 2 million copies in three weeks in 1962. By today's standards it might sell even more: there are twice the number of single women in the UK than there were 30 years ago.
Accordingly, Cosmo's sales are healthy. The concept of these magazines may - to many modern women - seem to conflict with feminism. But someone is buying them.
All magazines pride themselves on reader engagement, but Cosmo particularly so.
Before the women's magazine market diversified, independent young women might have defined themselves as "Cosmo Girls", and they still write in to the magazine in their thousands; the chat forums on Cosmo's website are always buzzing. Many women credit Cosmo with giving them their first inkling of what sex was all about.
Court won't be drawn when I ask whether the magazine should have a lower age limit, but says: "Sex is for grown-ups. We're talking to women in their 20s, and the important thing is the message; when we talk about sex we say it's something where you should feel in control and never to do something that doesn't feel right to you. Cosmo has a valid role in sex education, but that isn't our job. We're sending an empowering message to women."
Empowerment does not necessarily mean feminism, which remains a dirty word over at Cosmo, no doubt because it is too often, unfortunately, associated with hackneyed caricatures of the bra-burning feminist. The readers, when polled, said they didn't feel it described them. Could it be that they think the word "feminism" isn't man-friendly?
- INDEPENDENT