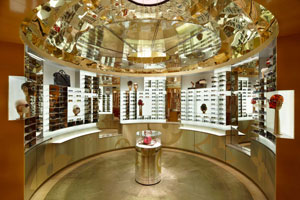 An immaculately be-suited, bespectacled and discreetly fragrant Patrick-Louis Vuitton sits at a leather-topped table in the reception area of London's newly opened Louis Vuitton store - or "maison", as the powers-that-be would have it be known.
This, double the size it was before any refurbishment started, is, according to architect Peter Marino, the most luxurious example of its kind in the world.
Certainly, it's a far cry from the original and rather more low-key London outlet that first welcomed discerning travellers in this city 125 years ago.
"Fantastique!" says Vuitton, when asked, in one word, to sum up the Louis Vuitton heritage. And indeed it is.
Today, a Michael Landy kinetic sculpture the artist himself has merrily described as made out of "junk" rubs shoulders with a honey-coloured leather briefcase lined in palest rose silk that once belonged to Princess Margaret - it still bears her handwritten name tag.
In a similar vein, a suitably iconoclastic display of women's ready-to-wear - mannequins with bags on their heads wear "traveller"-inspired denim hotpants stamped with the famous LV logo, or even a Louis Vuitton nurse's uniform - is only a floor away from a wall of antique Louis Vuitton trunks dating back a century and more.
As for the stairway, it's glass, embedded with an ever-changing, movement-sensitive LED display that flickers into rainbow-coloured life at the merest hint of a footfall.
Further testimony to the Louis Vuitton spirit of effortlessly combining innovation and a history steeped in fine craftsmanship is a "bag bar" where shoppers sit on stools and watch the latest LV "it" accessories go by, as if on the world's most glamorous conveyor belt, and a polished marble floor is inlaid with hand-carved flowers.
A caviar case - complete with gleaming stamped glass saucers and mother-of-pearl spoons - is laid out on one table; a Louis Vuitton poker case on another. There's costume jewellery - bling! Fine jewellery - bling! bling! High jewellery - mega-bling and much of it costing over £2 million (NZ$4.4 million). And all on one floor.
Even at its most reasonable price point, this may not be the most accessible range of products the world has ever known. There is, however, a peculiarly contemporary democracy to the fact that it is under a single roof. That'll be a circular, mirrored, "breathing" roof if madam - or indeed sir - happens to visit the corner reserved for eyewear.
Not everything in this best of all possible (consumer) worlds is open to all, however. A status name is a status name, however upbeat and full of the joys it may be - and this is as upbeat and full of the joys as it is possible to imagine.
There's a bookstore where limited-edition art publications are on offer: watches, menswear, womenswear and, of course, more luggage than anyone might ever dream of for public consumption and even just prying eyes. It's not unlike the world's most upscale playground.
VIP customers, though, will be whisked quietly up to the more sedate top floor, where a private apartment of interconnecting sitting rooms has walls lined with fine art, courtesy of superstar names including Jean-Michel Basquiat and Jeff Koons.
And in the midst of it all sits Vuitton, the great-great-grandson of Louis, arguably the most industrious boy in French fashion history. Folklore has it that the man who founded this world-famous empire left the family home in the Jura region of France aged not quite 14, in 1835.
Clad, in true fairytale style, in hobnail boots and a craftsman's tunic, he travelled on foot for no fewer than two years before arriving in Paris and undergoing an apprenticeship with one Monsieur Marechal, wooden-box maker par excellence.
The Vuitton family hails from a long line of millers, carpenters and joiners which, even now, underpins the spectacularly successful business.
For his part, Patrick-Louis entered the company in 1973 at the behest of his grandmother. "She was the wife of Gaston-Louis Vuitton, the third generation, who wrote a letter to my father asking me to come to the Asnieres workshop," he says.
And so, for more than 20 years, Patrick-Louis Vuitton climbed up through the ranks crafting hand-finished luggage, much of which went on to be sold on the shop floor, before managing its manufacture and finally being given the title of head of special orders that he retains to this day. Great-great-grand-father Louis Vuitton's own big break came in 1853, when he was awarded the task of transporting the Empress Eugenie's wardrobe.
The Spanish-born wife of Emperor Napoleon III was no wallflower, dressed in the silks, satins and cumbersome horsehair petticoats crinolines of the day - all of which accompanied her on her travels. In 1854, her case-maker set up in his own name, by that point also catering to her coterie of friends.
Louis Vuitton first gave the world the revolutionary flat-top trunk - until then lids were dome shaped - that enabled the privileged classes to neatly stack their baggage for ease of transportation.
Then came a waterproof, varnished-canvas exterior that was both lighter and less pungent than leather, ensuring no unseemly odour permeated any belongings. Later, Louis Vuitton introduced the tall trunk, an upright affair not unlike a travelling wardrobe.
It is available to this day, to those prepared to spend upwards of £10,000 (NZ$21,670) for the privilege.
Of course, much has changed since that time. First and foremost, in 1990, Louis Vuitton was acquired by LVMH (Louis Vuitton Moet Hennessy), the world's largest luxury goods conglomerate.
It has gone on to become the most profitable brand in the business, reporting double-digit growth in the first quarter of this year - and this despite an unstable economic climate.
Today it is the famous LV monogram that attracts the most attention, finishing everything from totes and purses to (a sign of modern times if ever there was one) cases on wheels.
In 1997, Marc Jacobs was employed to introduce women's and men's clothing to the brand, which he has done to suitably high-profile effect. In his hands, these collections may, at first sight, seem irreverent. But they are inevitably connected to the Louis Vuitton heritage, however oblique his references may seem.
The designer, not backwards in coming forward, has also duly customised the famous logo with glossy cherries, neon graffiti and even magic mushrooms - all of which have sold like hot cakes, introducing a younger and more fashion-conscious customer to the fold.
Then there are the Louis Vuitton ad campaigns. A flexing of fashionable muscle that is second to none, these have by now featured everyone from Kate Moss to Mikhail Gorbachev, and Madonna to Maradona. Such marketing has reaped rewards.
Still, Patrick-Louis, who as well as ensuring that a less ephemeral customer remains part of the story also acts as ambassador for the brand, insists that the core values of Louis Vuitton are intact.
"We have a wider range of product - ready-to-wear, watches, jewellery - than we did 30 or 40 years ago," he says, "but the spirit is the same. In each product we have an extraordinary mix of tradition and innovation. You can see yourself in this store.
We have heritage trunks that are shown alongside the new products and you don't feel like there's any delineation between them. They are perfect together."
He spends his time between the Louis Vuitton workshop and in consultation with private clients. "They know, meeting me, that we will make something extraordinary for them, quite extraordinary and unique."
And with that he's off back to Paris, most likely travelling with a prototype for a new design rather than anything more obviously rarefied.
"Because the best way to test luggage is to travel with it," he says.
- INDEPENDENT