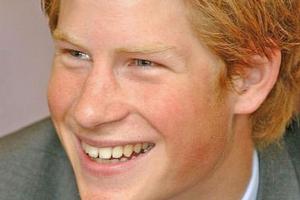 Prince Harry has been crowned king of cool in a list compiled by GQ magazine.
The ginger-haired royal beat the likes of Dizzee Rascal, Horrors singer Faris Badwan, Twilight heart-throb Robert Pattinson and sprinter Usain Bolt to take the title.
The magazine took 37 and a half to be the cut-off age in considering the coolest men.
The list took into account an "enviable sense of savoir faire, a talent for transforming the mundane into the extraordinary, or just a really edgy haircut".
Harry, 25, was described as "soldier, ambassador, polo player, playboy", whose stint in Afghanistan helped turn around his image after a few youthful mishaps.
However, big brother Prince William, failed to make the final cut of young movers and shakers.
Arctic Monkeys drummer Matt Helders also made the top 10 and was described as: "Wry, self-deprecating and often soul-searchingly existential, the drummer is indie music's online answer to Jerry Seinfeld."
Despite his personal troubles and fall from grace last year, golf pro Tiger Woods managed to place in the top 40.
Youngest cool-guy on the list is Albert Cocker - son of former Pulp star Jarvis - who at just seven is predicted to be "heading for big things with the in-crowd".
The list appears in the July issue of GQ, on sale from Thursday.
The top 50 coolest men according to GQ:
1. Prince Harry
2. Robert Pattinson
3. Reggie Love (Aide to US President Barack Obama)
4. Dizzee Rascal
5. Jason Schwartzman (actor)
6. Usain Bolt
7. Ryan McGinley (photographer)
8. Dustin Lance Black (screenwriter)
9. Matt Helders (Arctic Monkeys drummer)
10. Wells Tower (author)
11. Brian Burton (aka Danger Mouse, record producer)
12. Jack White
13. Jon Favreau (speechwriter to President Obama)
14. Roger Federer
15. Andre Saraiva (artist)
16. Nicola Formichetti (Lady Gaga stylist)
17. Lionel Messi
18. Mark Zuckerberg (Facebook co-founder)
19. Nate Lowman (artist)
20. Shaun White (snowboarder)
21. Tahar Rahim
22. Julian Casablancas
23. Tom Brady
24. Demetri Martin
25. Oliver Sim
26. Sam Kilcoyne
27. Scott Campbell
28. Fraser Nelson
29. Faris Badwan
30. Todd Selby
31. Derek Blasberg
32. Jethro Lazenby Cave
33. Christian Lander
34. Humberto Leon
35. Yvan Rodic
36. Ashley Palmer-Watts
37. Paul Griffiths
38. Tiger Woods
39. Blake Mycoskie
40. Waris Ahluwalia
41. Joerg Koch
42. Albert Cocker
43. Christopher Mintz-Plasse
44. Markus Anderson
45. Rory Stewart
46. David Karp
47. Dinos Contostavlos (Dappy)
48. Tristram Hunt
49. Toby Kebbell
50. Andrey Ternovskiy
- NZ HERALD STAFF