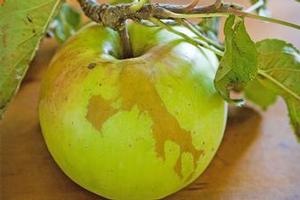 A juicy crisp apple is a joy and makes the perfect snack. Whether you are a fan of a tart granny smith which makes your eyes squint or prefer the sweetness of a red delicious or gala, apples taste good right now. With the development of many hybrid apples and controlled atmosphere storage we're used to being able to enjoy them all year round, but the cooler months are the best time to eat them - as those of you with apple trees in the back yard will know.
Apples are a versatile ingredient, they can be enjoyed either raw or cooked and can be used in both sweet and savoury recipes. Baked stuffed apples, pies, rustic pork sausages and apple sauce, the list goes on...
Slices of raw apple provide interesting texture with delicious crunch in a salad when paired with nutty organic Montebello lentils, toasted almonds and fresh mint. Crisp gala, jazz or rose varieties are all good here.
Ask your butcher about pork rump. Freedom Farms supply whole rumps weighing around 1.2kg, perfect for four to five people. Though it's often cut into steaks, the rump is delicious cooked slowly in cider as one whole piece studded with garlic and flavoured with bay leaves and juniper. Its layer of fat gives fantastic flavour and makes the meat meltingly tender. Yes, it needs to cook for a long time and works well in a slow cooker or save it for the weekend where it can be put on and forgotten about for a few hours.
Granny Smith apples are a one of my favourite eating apples, but also cook very well and are perfect in the shortcake recipe where scrumptious buttery dough is baked until golden and crisp, then served with cream whipped with a little whisky and brown sugar. It's a perfect warming autumn apple dessert.
CHEF'S TIP
Apples stay crisper longer if kept in the fridge. When preparing them for cooking or using in a salad, brush with a little lemon juice to prevent discolouration.