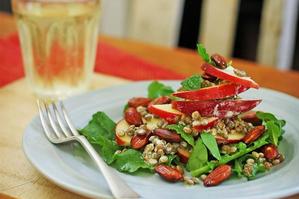 Serves 4
1 cup lentils - I use Montebello lentils from Sabato, can be substituted with lentils du Puy or brown lentils
2 crisp red apples
Lemon
Rocket leaves
Mint leaves
1/2 cup toasted almonds
Mint leaves
Dressing
1/4 cup sour cream
1 Tbs olive oil
1 Tbs honeygar
1 clove garlic, minced
1 tsp Dijon mustard
Salt and pepper to taste
1 Cook the lentils in boiling water until tender. Drain and cool.
2 Slice the apples and toss in a little lemon juice to stop them going brown.
3 Combine the lentils and the dressing, then arrange with the apple slices, rocket leaves, mint and almonds.
4 To make the dressing, whisk all the ingredients together.