Their fans range from skinheads to fashion models - and more than 100 million pairs have been sold worldwide since they made their debut. Ralph Miller and Susie Mesure salute Dr Martens boots as they celebrate their half-century.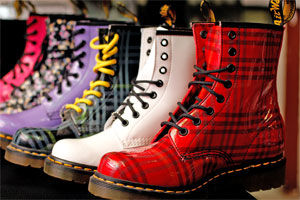 1 When it comes to British icons, Dr Martens are up there with the red telephone box, fish and chips and the black taxi. Yet the thick-soled, lace-up boot is actually German.
2 An injured Dr Klaus Martens, who was an army doctor during the World War II, came up with the air-cushioned sole to soften the impact of walking around after a skiing injury sustained in 1945 while on leave from the German army. He found army-issue boots too uncomfortable.
3 Dr Martens had little success in selling his creation until a meeting with an old friend, Dr Herbert Funck, got the fledgling business off the ground.
4 The boots have a green heritage: the duo recycled discarded rubber from former Luftwaffe airfields to make their first pairs, which went on sale in Munich in 1947.
5 Those air-padded soles clearly appealed to German housewives - 80 per cent of sales during that first decade were to women.
6 The boots were so popular that Dr Martens soon started thinking about selling them abroad. The Griggs family, who were based in Northamptonshire, liked what they saw and acquired the rights to manufacture the German design in Britain.
7 Before the first pair went on sale in Britain, Griggs reshaped the heel, added the trademark yellow stitching and trademarked the "bouncing" soles as AirWair.
8 Griggs also anglicised the name, to Dr Martens, dropping the German 'a'. (Just as well the original pair didn't go with Dr Funck.)
9 Later, the boots were nicknamed Doc Martens, DMs or simply Docs.
10 The original eight-holed pair was christened the 1460 because it first went on sale on 1 April 1960.
11 The boots were initially sold with factory workers, policemen and postmen in mind, but were quickly adopted by skinheads in London's East End.
12 A whole range of subcultures soon started wearing Docs, including mods, punks and goths.
13 By the 1970s and 1980s, the boots were as likely to be worn by National Front white supremacists as by anti-racist ska fans.
14 People would colour-code their laces to reflect their political views. White supremacists wore white laces, while if someone opted for red laces, it either meant they were from the far left or had shed blood for the cause of the skinhead movement. Anti-fascists wore multicoloured laces.
15 These days Dr Martens can have anywhere from three to 20 holes, although only serious fashionistas, such as the designer Gareth Pugh, tend to choose a boot with more than eight eyelets.
16 The model Agyness Deyn gave Dr Martens a new lease of life a couple of years ago when they became her ultimate wardrobe staple. She has since become the brand's de facto ambassador; her collection spans the rainbow.
17 In the past 12 months alone, sales have shot up 30 per cent across Europe and 25 per cent in the brand's namesake store in London's Covent Garden, and the company's profits hit £85 million ($174 million) last year.
18 Despite the shoes' humble origins, these days you can shell out £200 for a pair of Docs; they are lined with shearling.
19 But you can also pick up a pair of Dr Martens sandals, complete with AirWair sole, for £40.
20 The company hit its zenith just before the millennium: global sales were around £260 million.
21 America is as excited about the boots' birthday as Britain. Dr Martens first went on sale in the US in 1984 and the boots have remained popular.
22 Globally, the company has sold more than 100 million pairs.
23 The company behind Dr Martens bought a football team, Rushden & Diamonds, in the early 1990s, which was apt given that most of the fans on the terraces would sport the boots.
24 But Griggs' involvement with football turned into a millstone and the club's debts quickly mounted, despite Rushden & Diamonds' elevation into the Football League. In 2005, the club was handed over to a supporters' trust.
25 The company also sponsored West Ham United from 1998 to 2003.
26 Dr Martens inadvertently launched Wayne Hemingway's career. The fashion designer started out by jazzing up old pairs of Dr Martens and selling them from a stall at London's Camden Market.
27 Since then, several designers have customised their own versions of the iconic boots, including Vivienne Westwood, Paul Smith, Jasper Conran, and Yohji Yamamoto. Even Jimmy Choo, purveyor of sky-high stilettos, has collaborated with the brand in the ultimate clash of shoe styles.
28 Although the boots are back in vogue now, the early 2000s were a different matter. In 2002, the company was under enormous financial pressure after international sales collapsed. One year later, it shut all but one of its British factories with the loss of 1000 jobs, shifting production to China and Thailand.
29 After a four-year hiatus, it started making its Vintage line in the original R. Griggs factory in Wollaston, Northamptonshire.
30 As well as its Covent Garden HQ, which opened in 1994, the company has a new store in Spitalfields Market as well as outlets around the world, including one in the French capital Paris, plus two in the US, in Portland, Oregon, and Seattle, Washington. It will soon add a third US store in San Francisco, California. It also has one outlet in Korea, and three in Hong Kong.
31 DMs have long been associated with edgy musicians but an advert featuring the dead singers Kurt Cobain, Sid Vicious and Joey Ramone wearing the shoes in heaven was dropped in 2007 after it was deemed distasteful.
32 You can read all about the boots' influence on pop culture in Martin Roach's book, Dr Martens: The Story of an Icon.
33 Musicians as diverse as The Clash and Lady Gaga have donned a pair of Docs. As have The Who, Red Hot Chili Peppers and the Spice Girls.
34 Alexei Sayle wrote an entire song about Dr Martens, declaring: "It's not class or ideology, colour, creed, or roots; the only thing that unites us is Dr Martens' boots."
35 The company sponsored the Glastonbury and Reading music festivals between 1997 and 1999.
36 The New Jersey punk rock band the Bouncing Souls were allegedly named after a Dr Martens advertising slogan.
37 Ten bands, including Noisettes, Black Rebel Motorcycle Club and the Cinematic Orchestra, have updated 10 cult classic songs to mark the company's 50th anniversary.
38 Dr Martens is the only boot in the Oxford English Dictionary, making them a favourite with Scrabble fans as well as fashion followers.
39 These days, the company makes more than 3.2 million pairs every year.
40 Unlike most shoes, the boot's leather upper is stitched to its sole, not glued.
41 It isn't just fashionistas and film stars who like wearing Dr Martens. Pope John Paul II and the Dalai Lama have both also allegedly worn them. Their more recent fans include the actor Robert Pattinson and the singer Avril Lavigne.
42 You won't catch a serious vegetarian opting for Docs, however. The company used to sell a vegan-friendly, non-leather version, but dropped the line seven years ago when it relocated its factories to Asia.
43 Dr Martens employs 265 people worldwide, with half of its employees working in Britain.
44 The privately held firm's current owner, Stephen Griggs, is the third generation of the family to run it. He follows his father Max and his grandfather Bill.
45 In the past 50 years, there have been around 70,000 different varieties of Dr Martens.
46 The boots are stocked at 533 independent retailers across Britain.
47 Uniquely for a shoe, one of the brand's ranges comes with a lifetime guarantee to repair or replace any that get worn out.
48 Its shoes and boots are available from UK size 3 to 15.
49 The company uses 42,000km of yellow stitching every year and gets through 10 million pairs of laces annually.
50 Diehard Doc fans can even sport plaid: the McMarten tartan, to be precise.
-Independent