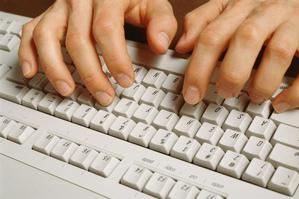 In January we're after information on detox diets and marriage licences.
This month, Mum's on our mind, with Mother's Day looming.
And come Christmas time, we're after camping grounds and maps of the Coromandel.
Increasing numbers of New Zealanders are relying on the internet as a research tool and the search engine Google has uncovered seasonal trends in what we're looking for, with the same subjects proving popular at the same time every year.
Searches for the notes from the film Shawshank Redemption and quotes from Lord of the Flies are high up in searches every November - as secondary school students start cramming at exam time.
Hot cross buns recipes, and the end of daylight saving feature in March, with Irish jokes, blessings and beer before St Patrick's Day on March 17.
Secret Santa gifts and holiday pay are of interest in December.
We're turning on the romance in February, with Valentine's Day, restaurants in Auckland and Valentine's poems featuring at the top of the most-searched list. Girl Guide biscuits and Bluff oysters are also popular then.
Searches about poppies, Anzac history and World War I poem In Flanders Fields appear each April.
And in June we want to know when the shortest day of the year is, and all about the Rural Bachelor of the Year competition which is held at the annual Fieldays agricultural festival at Mystery Creek.
By September we're thinking about summer, searching for when daylight saving starts but we're also thinking about Dad for Father's Day.
October sees Kiwis search for Halloween party food, fireworks and the annual Diwali Festival, a festival of lights celebrated by Hindu Indians.
And we brush up on our Te Reo in July, when the Maori dictionary features in Maori Language Week.
Google New Zealand spokeswoman Annie Baxter said the consistency of the search subjects each year showed we were creatures of habit, with the same subjects popping up annually.
"These search trends are actually extremely interesting and provide a fascinating insight into our culture," she said.
"We love the fact that the trends cover everything from the predictable to some delightfully quirky Kiwi-isms - for instance, April is all about how to use up those feijoas that are lying on the ground under the hedge, while in May, 'duck shooting' is followed by 'wild duck recipes'."
SEARCHING QUESTIONS
January: Detox diets
February: Love poems
March: Hot cross buns
April: Feijoas
May: Duck shooting
June: Shortest day
July: Te Reo
August: Seafood pizza recipes
September: Summer time
October: Halloween
November: Exams
December: Camping holidays